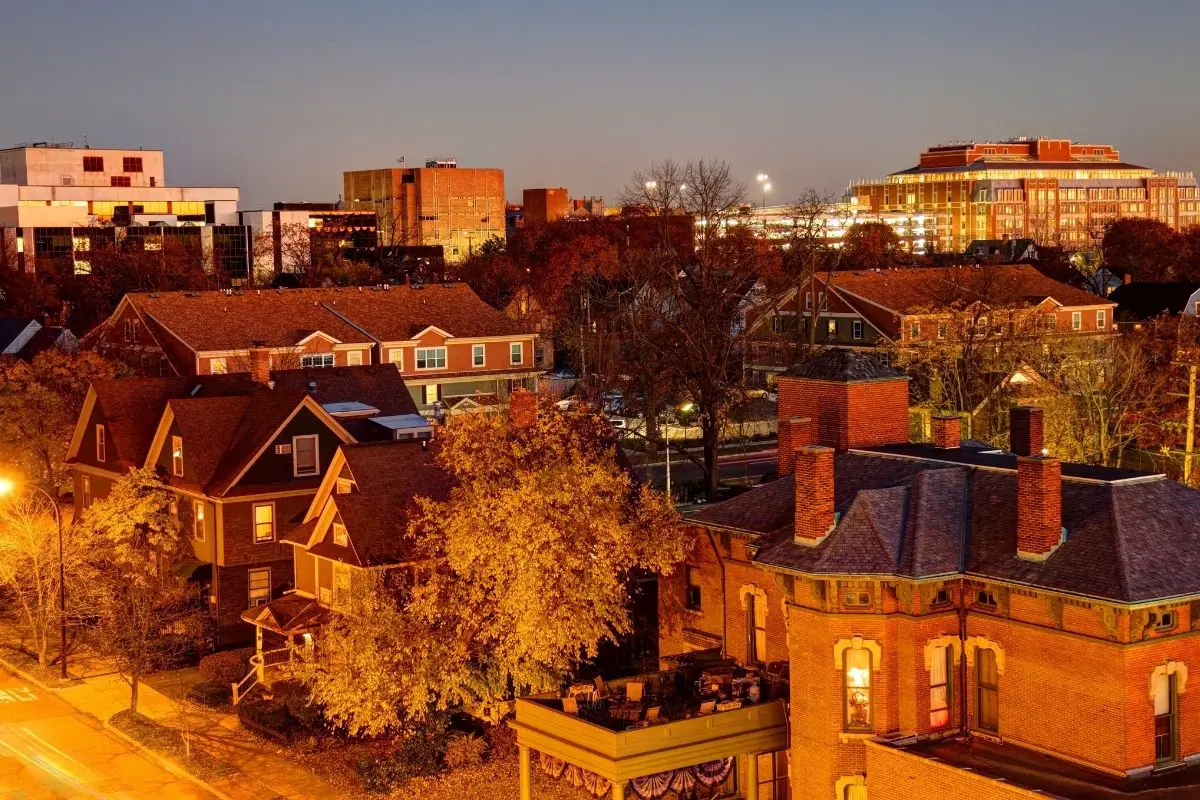 Some of the things that make Ann Arbor a great place to live include the city's excellent public schools, its vibrant and active downtown area, and the many cultural and recreational opportunities available.
Ann Arbor also has a lower cost of living than many other large cities in the United States.
People who might like living in Ann Arbor include people arts and culture lovers, people who are looking for an inclusive community, and outdoorsy people.
The Pros of Living in Ann Arbor Michigan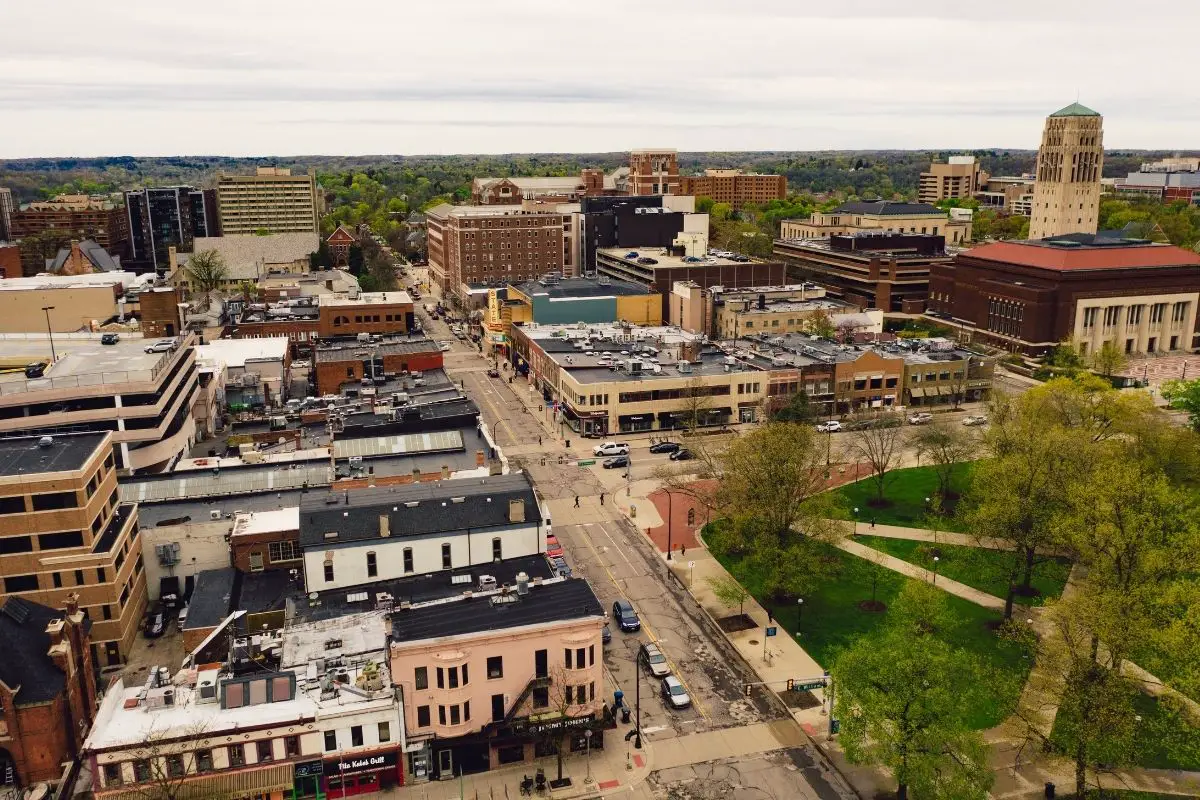 There are pros and cons to living in Ann Arbor, MI. Some residents enjoy the vibrant cultural life, while others prefer the laid back atmosphere.
Whatever your reason for wanting to move to Ann Arbor, MI, consider these important considerations before making the decision.
1. Education
Ann Arbor is famous for the University of Michigan. As a center of education, many students and young adults find a place to learn in Ann Arbor.
The University of Michigan wasn't always based in Ann Arbor. It was founded originally in Detroit in 1817, and then moved to Ann Arbor in 1839.
The university does not just draw many students, but also creatives, educators and teachers, as well as anyone in employment for the university.
In addition, there are many tourists who visit the campus each year to find out more about the town's history.
The university buildings also house a range of museums that display the artistic and natural history of Ann Arbor and Michigan state.
The University of Michigan also holds an R1 Carnegie Classification which means that the university invests in a number of research projects.
This has resulted in a number of university alumni receiving famous academic awards and prizes.
2. Transportation
Ann Arbor is located in Washtenaw County, which is part of Metro Detroit. This region is served by two major airports: Detroit Metropolitan Wayne County Airport and Willow Run Airport.
Detroit Metropolitan Wayne County Airport is located in Romulus, which is 15 miles away from downtown Ann Arbor.
Willow Run Airport is located 10 miles away from Ann Arbor. Both airports offer flights to cities all over the world.
If you want to travel around Ann Arbor without driving, you can take one of the many buses.
The city has a bus system that connects several parts of the city together. There are also some shuttles that run between different parts of the city.
The city also offers a free shuttle service that operates every day during rush hour.
3. Events
Ann Arbor is home to many events throughout the year. The most popular event is the annual Michigan State Fair which takes place in Novi (just half an hour drive away).
This is held at the end of August, and it lasts for three weeks. During this time, visitors can buy tickets to sample food, see animals, watch live entertainment, or even ride on rides.
Other events include the Taste of Ann Arbor, which is held annually in June. Visitors can taste local cuisine and shop at various vendors.
Another event is the Ann Arbor Art Fairs, which takes place every July. These fairs showcase artworks from both local artists and international artists.
During the summer months, visitors can attend festivals such as the A2 Fest, the Big House Festival, and the North Country Music Festival.
These festivals celebrate music, arts, and culture. For more events, you can always check at the University of Michigan. Their musical society often holds performances at the university with world class talents.
4. Sports
There are a number of sports teams in Ann Arbor. A lot of these teams graduated from the local university.
The main professional team nearby is the Detroit Lions, who play in the National Football League. They have won five Super Bowl titles since the 1970s.
They also play against other NFL teams like the Green Bay Packers and the New England Patriots.
The Detroit Tigers play baseball in the American League Central Division. They were founded in 1882 and they currently play their games at Comerica Park.
5. Nature
Ann Arbor is surrounded by nature. It has a number of beautiful parks and lakes. These parks are great places to relax after work. You can go hiking, fishing, swimming, boating, or just enjoy the scenery.
One of the best parks is the Huron Riverfront Park. It is located near the Huron River. Here, you can find a large lake, a playground, a basketball court, and a skate park.
You can also visit the Ann Arbor Nature Center which features exhibits of a wide variety of plants and animals.
You can also visit the University of Michigan Arboretum. It was established in 1888 and it contains over 100 acres of land.
The Cons of Living in Ann Arbor Michigan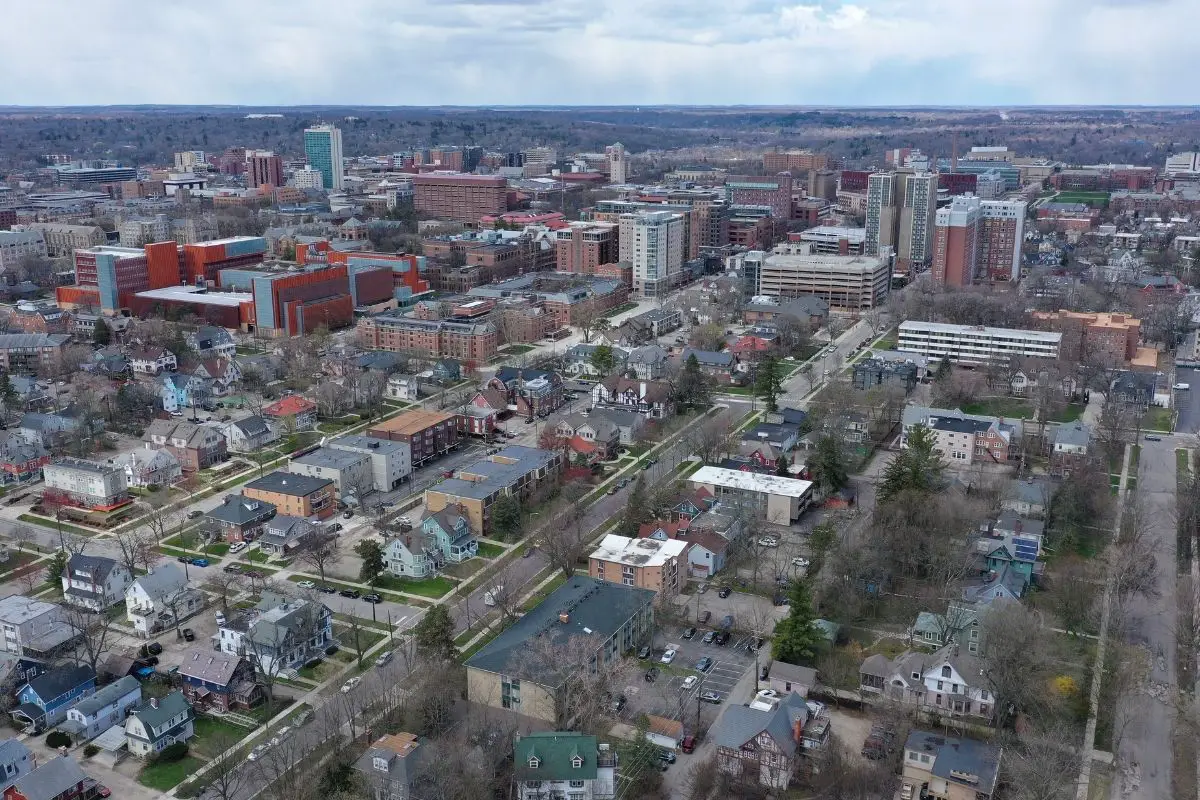 With all the many benefits of living, or even just visiting Ann Arbor, there are only a couple of downsides.
1. The Snow
The area around the lakes can see plenty of snow in winter. A record snowfall in Ann Arbor saw 43 inches.
That's significantly more than the national average which is around 18 inches.
This is not just something to bear in mind if you prefer warmer climates, but you also need to count to clear your driveway.
In addition, there may also be delays on minor roads which may not have been cleared so quickly, so you need to make sure to get out of the house early.
Apart from the snow, winters are very cold in Ann Arbor. This means that you will need to account for higher heating costs, and your home needs to be well insulated.
2. Higher Housing Costs
While the living costs in Michigan are usually affordable, housing prices in Ann Arbor tend to be much higher than other cities.
Utility bills and grocery shopping won't set you back as much as in other states. However, if you want to own a house in Ann Arbor you will need to pay significantly more.
In fact, here the house prices are almost double than the average home in Michigan state. This also applies to rentals which are much higher in Ann Arbor than elsewhere in the state.
Ann Arbor Attractions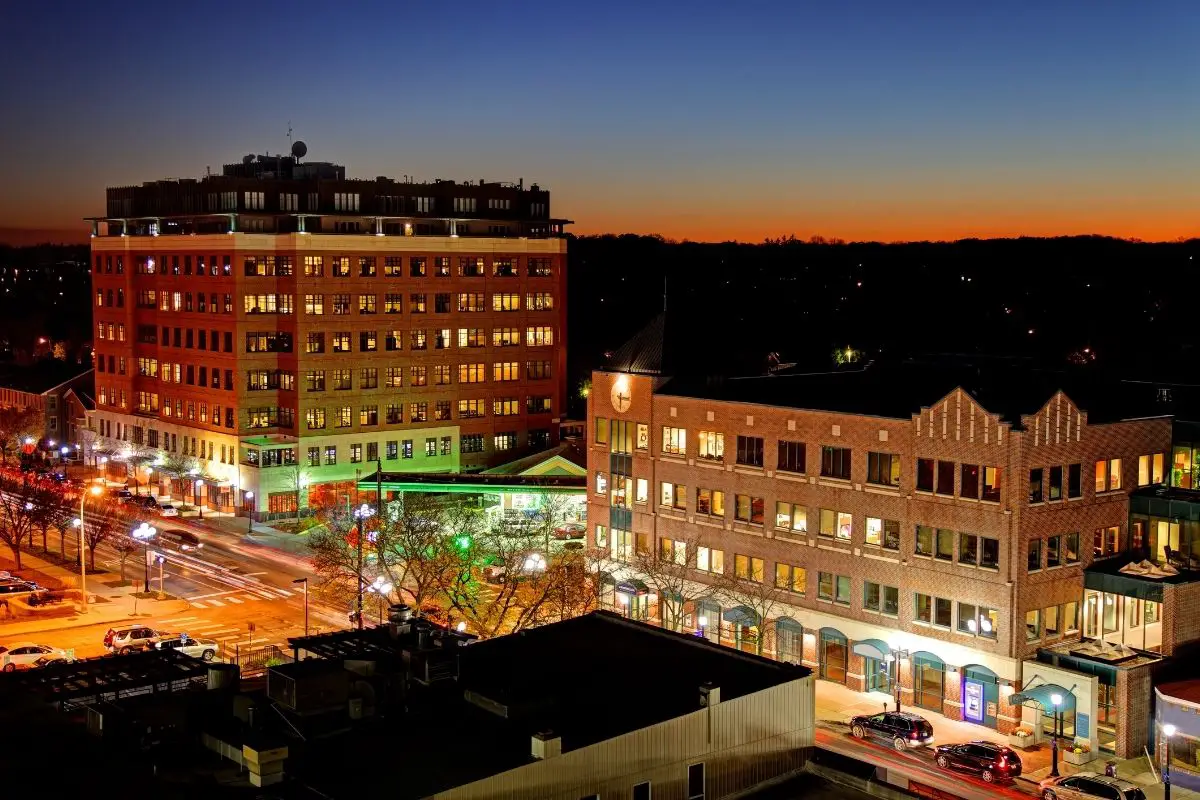 Ann Arbor is home to a number of great local attractions, from museums to architecture.
1. University Of Michigan Museum Of Art
This museum showcases artwork from all over the world. It was established in 1927.
It contains works by renowned artists such as Pablo Picasso, Henri Matisse, and Andy Warhol.
2. University Of Michigan Natural History Museum
This museum features exhibits about nature and science. It was established in 1914 and houses specimens of plants, insects, mammals, reptiles, birds, fish, and fossils.
3. Gerald Ford Presidential Library
This library is located on the grounds of the university, but it is open to the public. It houses documents and artifacts related to former U.S. President Gerald R. Ford.
4. Matthaei Botanical Gardens
This garden has been around since 1936. It is one of the oldest botanical gardens in America.
Located on the grounds of the university, it showcases a conservatory, arboretum, rose garden and plenty of interesting research areas.
It's ideal for a gentle walk or a longer hike.
5. Kerrytown
Kerrytown is an area that is part of downtown Ann Arbor. The district is known for its Victorian buildings and historic homes.
It's also home to many restaurants and bars. You can find everything here from fine dining to fast food.
You can visit Kerrytown any time of year because there are no seasonal restrictions.
6. Downtown Ann Arbor
Downtown Ann Arbor is where most of the city's businesses are located. There are several shopping centers and department stores.
Some of them include, The Depot (near the University of Michigan campus), Michigan Center Mall (right next door to the University of Michigan) and Northwood Village Shopping Center.
Northwood Village is home to many shops and restaurants. It's also close to the Kerrytown neighborhood.
Frequently Asked Questions
Is Ann Arbor Safe?
Ann Arbor is known for being a safe and welcoming community. The city's crime rate is 33% below the national average, and its residents are friendly and helpful.
In addition, Ann Arbor has a number of programs and initiatives in place to help keep its citizens safe. For example, the city hosts regular neighborhood watch meetings. All of these efforts have helped to make Ann Arbor one of the safest cities in the country.
The History Of Ann Arbor
In 1634, French explorer René-Robert Cavalier de La Salle came across the Huron Indians living in what would become Ann Arbor. The Hurons were friendly with the French, so they invited them to stay in their village.
The French built Fort Pontchartrain du Détroit on the site of present-day Detroit.
They called it "La Petite Roche," which means "the little rock."
In 1701, the British sent an expedition led by Captain James Cook to explore the Great Lakes region. They named the river that runs through Ann Arbor "Huron River."
In 1805, the U.S. government established the first permanent settlement in the area near the mouth of the Huron River. It was called New Orleans, after the Louisiana Purchase.
In 1807, the United States bought the entire territory from France for $15 million.
In 1825, Ann Arbor was founded. It was originally named Annarbour, after the wives of the founders who were both called Ann, and the local groves (arbors).
When the University of Michigan was established nearby in Detroit in 1817, Ann Arbor became an important transportation hub.
In the following century, more settlers came to Ann Arbor and a thriving industry developed.
It was in the 1960s/70s when the town became an important hub for liberal politics.
Remember, housing is typically the highest expense of a household, so it's important to consider these costs carefully before moving.
Conclusion
Ann Arbor is a great place to live, work, and raise a family. The city has a lot to offer, including a vibrant economy, excellent schools, and plenty of things to do.
If you're thinking about moving to Ann Arbor, be sure to consider all of the costs associated with living in the city. But overall, Ann Arbor is an affordable place to live and an excellent choice for those looking for a safe and welcoming community.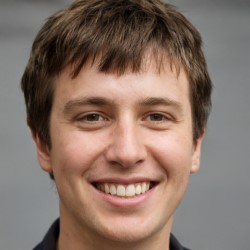 Jason Dempsey is the CEO and Co-Founder of Home City Living. After abandoning the corporate world in order to indulge his wanderlust, Jason founded Home City Living with his partner Rose to create the premier source of travel information and inside local knowledge on the web to help other would-be global explorers and seekers learn to spread their wings and fly.