It seems like every second person you talk to these days has considered moving to Austin Texas. It's a hugely popular city that's lauded as a fun, 'weird' part of Texas that people on the coasts dream of fleeing to.
In this article, I'll explore the pros and cons of the city whose motto is "The Live Music Capital of the World."
First, let's take a look at the profile of the sorts of people who might enjoy living in Austin Texas:
Early 20s Erin
Many people in their 20s are flocking to Austin for work and lifestyle. It feels like a city that's going somewhere. There are job opportunities and plenty of recreational facilities.
Low-Cost Chris
As far as cities go, Austin is still one of the more affordable. And while that's changing over time, Austin remains one of the better US cities for cost of living.
Musical Melinda
The live music scene is a big part of Austin's charm. If you love a hot, lazy afternoon listening to live music, this is the city for you.
Foodie Fred
Food is a bid deal in Austin. If you love barbecue or food trucks, you'll feel right at home here.
The Pros of Living in Austin Texas
1. Barbecue Culture
Austin is famous for its barbecue culture. And when it comes to Texans, don't be shy to get your hands greasy while pounding down your wings.
Austin's barbecue culture goes all the way back to the arrival of German, Czech and Polish immigrants in the 1800s who brought with them meat smoking (particularly sausage!) traditions from Europe.
If you haven't hit it up yet. I'd recommend the now-famous Texas Barbecue Trail that starts in Austin and loops through the outer-Austin towns of Taylor, Elgin, Luling and Lockhart.
The famed barbecue stops along this route include Taylor Cafe, Kreuz Market, and Smitty's Market. Kreuz market is particularly impressive with its 585 seat barbecue hall.
But it's also an amazing route for some truly Texan views, passing by Cowboy Churches and quaint All-American Southern small towns. Jump in your Chevvy, put the top down, and enjoy the freedom of Texan life.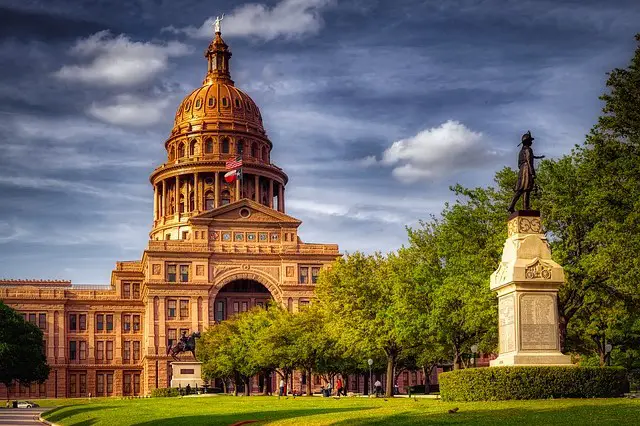 2. Barton Springs
Barton Springs is a recreational area just south of Downtown Austin that's earned its reputation for the hang-out spot on a hot day.
It sits at the end of Baron Creek and features an enormous pool open to the public 5:00am to 10:00pm, Friday through Wednesday. Barton Creek greenbelt all the way up to Butler Shores at Town Lake features some of the best picnic and green areas in the city.
Personally, I think Barton Springs deserves its own space as a 'Pro' of Austin. There are plenty of similar-sized cities with far less recreational green space, and it can be bustling at the height of Summer.
3. Live Music Scene
There are few cities with quite as vibrant a live music scene as Austin Texas.
And to celebrate the city's amazing music, it even officially adopted the motto:
"The Live Music Capital of the World."
Austin's live music culture emerged as a reaction to the stuffiness of the Nashville country music scene. Many poor, liberal, but extremely talented musicians decided to snub Nashville for Austin – a haven for poor musicians.
Even Willie Nelson left Nashville for Austin in 1972!
Today, you can head to Warehouse District, Downtown, Central East Austin, and the Red River District to enjoy live music any night of the week.
4. The Food Trucks
With a suitable diversity of cultures, a strong foodie history, and a live music scene, you can see why Austin was always primed to be a food truck city.
While you can get all the traditional food truck foods – from delicious taco trucks through to hot dog trucks, you'll also be able to find some great Texas barbecue food trucks, too. My favorite is Bohemian Barbecue, who you'll often find outside UT Football Games, The Trail of Lights, and SXSW.
5. Laid-Back Atmosphere
Combine Austin's "too cool for school" hipster culture and the crippling heat in Summer and you get the perfect recipe for a slow, laid-back subculture to emerge.
If you work in one of the many Austin tech start-ups, you'll also quickly find that business attire is considered too stuffy and off-brand for these progressive industry disruptors.
6. Technology Scene of Silicon Hills
As Austin's tech scene heated up in the early 2000s, the west side of Austin was given the name 'Silicon Hills'.
It's a play-on of Silicon Valley in California (itself a famous tech start-up region) and the hilly terrain in the west side.
You'll find plenty of R&D and video game start-ups in the area, but you'll also see big name brands such as Tesla, Amazon, Apple, and Dropbox.
So, while you might stereotypically expect to see liberal 20-something hipsters flocking to Austin, don't be surprised to also see the entrepreneurial crowd running to west Austin to participate in Texas's thriving tech scene.
7. Festivals
Austin is home to two enormously famous festivals: South by Southwest (SXSW) and Austin City Limits (ACL) Music Festival.
SXSW is a film, media, and music festival held in March each year. The music element of the festival began in the late 1980s as a small but popular festival, while today it hosts over 2,000 acts annually. In 1994, SXSW introduced its film and media component. In 2006, "Screenburn at SXSW" was introduced, which celebrates Austin's video game industry.
The 2007 SXSW is widely considered to be a breakthrough moment for Twitter, where it saw rapid rise thanks to its embrace by the SXSW community.
ACL started as a PBS television show, but became a festival in 2002 featuring rock, indie, folk, and hip-hop artists. Today, the ACL Music Festival usually takes place in October. It's headlined bands including Red Hot Chili Peppers, Guns n Roses, Metallica, and Pearl Jam.
8. The Lakes!
As a paddleboarder, I love that Austin boasts three amazing lakes: Lake Austin, Lady Bird Lake, and Lake Travis.
The lakes are all man-made and designed to control water flow and flooding around the city. (There are actually seven lakes for this purpose, but only three that are close to the city itself).
These lakes are hugely popular recreational areas. All three are stocked with fish and fishing is permitted on each. My personal favorite is Lady Bird Lake because motorized vehicles are prohibited. This makes it perfect for paddle boarding. Get there early when the water is calm, it's quiet, and the day's not too hot for an amazing morning out on the water.
9. No State Income Tax
The Texas constitution prohibits the state from collecting income tax.
So, while you'll still be paying your federal taxes, the state itself won't come after you for taxes on income earned through work.
But don't think that you're going to get away with paying no taxes to the state government. You'll have to pay 8.25% Sales & Use Tax (SUT). This comprises of 6.25% SUT, 1% city SUT, and 1% metro transit authority SUT.
While Texas has a reputation for low taxes, there are actually 20 states with lower overall tax burdens than Texas. So, this is a glass half full situation: taxes are far lower than New York and Hawaii, but far higher than Alaska and Florida.
10. International Airport
Austin has a decent international airport with direct routes to locations around the country and the world.
When looking for a place to live, one factor I look for is an international airport. I love to travel and I want quick access to the world.
Austin-Bergstrom international airport has direct routes to key destinations in Mexico, Canada, and Europe. You can fly direct, to Mexico City, Cancun, Toronto, Calgary, London (England), Amsterdam, and Frankfurt (Germany).
The downside is that access to downtown isn't the best. For example, compare Austin to San Diego and you can see San Diego's airport has significantly faster and more convenient access to downtown. Unfortunately in Austin, you'll be waiting for a public bus, shuttle bus, or hailing a taxi.
11. Proximity to Dallas, San Antonio, and Houston
There are cities in the US that feel isolated from other cities. Minneapolis comes to mind. But Austin has three major cities within a 3 hour drive: Dallas, San Antonio, and Houston.
This makes Austin a convenient home base for drives to other cities (Houston for Football games and Dallas for Basketball, for example).
But it also is a reason Austin is a great place to do business. You can conquer four cities in one if you make Austin your home base for rapid growth.
12. Significantly more Affordable than Coastal Cities
Run your eyes over Numbeo's city affordability index and you'll quickly discover that Austin is significantly more affordable than cities along the West and East Coasts.
Compare Austin to Los Angeles, Seattle, New York, or San Diego, and you can see the difference in cost of living is stark. You'd want to be living in Austin.
You hear of many people fleeing California for Los Vegas, Nevada for lower cost of living. But even here, Austin has it beat by a long way!
Austin is also a fair bit cheaper than Dallas, despite the cities being very close together.
But look south to San Antonio and Houston and you'll get a closer comparison: Austin is about as affordable as both San Antonio and Houston.
13. Liberalism
I'm listing the liberalism of Austin TX as both a pro and a con.
Because, let's face it, it depends on your politics! As a positive, Austin is a welcome home for political progressives, LGBTQI+, and diverse populations. Many people who grow up in Texas and other southern states can make their way to Austin to find somewhere to feel comfortable away from their more conservative hometowns. There's
14. Property Investment Opportunities
Austin is widely acknowledged as being a city on the up.
Its population has been booming for years, development is continuing at a rapid pace, and the city remains a hub for entrepreneurs. Most investors are very positive about the city's medium to long term future.
And yet housing prices are still lower than the coastal cities. The outer suburbs are still somewhat (I'd emphasize comparably) affordable compared to many other cities across the country.
As the 11th most populous city in the United States and a city with a diverse economy, you can only expect property prices in the city to continue to grow.
15. Gas Prices
The Southern States consistently rank as states with the lowest gas prices in the country.
According to AAA, Texas, along with Mississippi, Louisiana, Missouri, and Alabama, are the cities with the lowest gas prices historically.
And this is good news seeing as Austin is a big driving city. While you can always get a bus, the light rail is pretty exclusive to central areas, and just isn't available to large areas of the city.
The low gas prices are thanks, again, to the aversion to taxes in Texas. The gas tax in Texas is just 20c per gallon – less than half of California's 53.3c per gallon.
16. Diversity
Austin is a Majority-Minority city. This means that there is no one ethnicity that adds up to 50% of the population.
Non-Hispanic Whites remain the most populous demographic, accounting for about 48% of the population. Hispanics account for over 30%, Black and African-Americans account for about 8%, and Asians account for about 8%.
Furthermore, 32% of the residents of Austin don't speak English at home.
This diversity is very visible as you walk around the city. And it's surely one reason non-White people move to Austin. It's one of the more welcoming southern cities to minorities, being a very liberal area of Texas.
17. Craft Beer Scene
There are over 40 breweries and brewpubs in Austin, making it a decent hub for craft beer.
The craft beer scene in Austin isn't quite as developed as cities like Portland and San Diego, but it's enough to satisfy any beer lover's palate.
The breweries are quite spread-out. But, for the regular party-goers, you can always go to the very accessible Zilker Brewing Company and Lazarus Brewing Company which are both located in the 6th Street entertainment district.
18. Mild Winters
Austin has long hot summers and short, mild winters. This is perfect for people who hate the cold.
In winter, expect:
| | | |
| --- | --- | --- |
| Month | Average Overnight Low in Austin, Texas in Winter | Average Overnight High in Austin, Texas in Winter |
| December | 42 | 62 |
| January | 41 | 61 |
| February | 45 | 65 |
So, the winters are still colder than some cities such as Phoenix AZ, Miami FL, and Los Angeles CA. But they are still reasonably tolerable winters in comparison to northern cities like Pittsburgh and Chicago.
And, yes, it still snows in Austin. Barely. A Minnesotan would probably laugh if they saw the sort of snow Austin gets in January.
Cons of Austin Texas
19. Complaints about Newcomers
Possibly every Texan's favorite thing to moan about is the newcomers to the state.
There's a perception in Texas that liberal coastal states like California, Washington, New York and Maryland are failing cities. The narrative is that the taxes are too high, the Bureaucracy is bad for business, and the infrastructure has been mismanaged.
So, the idea is that many people are fleeing liberal states for the freedom of Texas (famously including Joe Rogan, who himself moved from Los Angeles to Texas).
And the data does seem to support the argument that more Californians move to Texan than the other way around (by a big margin).
Many Texans feel as if the influx of people from the coasts dilutes Texas's identity and will ruin the way of life Texans enjoy. It may be a reason Texas has become less and less conservative in recent decades, for example.
So, if you're a white liberal moving to Austin, expect some people to be upset with your arrival – at least for a while until you manage to blend in with the Texas crowd. Maybe buy yourself a big hat? (That was a joke. Don't buy a big hat.)
20. Gentrification
The increasing cost of living is leading to gentrification in many areas of Austin, particularly the neighborhoods of Holly and Montopolis.
The grunge and underground culture that used to make Austin a 'cool' place to be is slowly being pushed out by the sheer number of people flocking to Austin from the coasts.
The University of Texas commissioned a report on this gentrification problem, highlighting its potential to displace low-income, African-American, and Hispanic people from their own neighborhoods. In part, it reads:
"…neighborhoods that have historically been home to African-American and Hispanic residents will lose their cultural character and become enclaves for largely white and wealthier residents…"
Ironically, the process of gentrification may undermine Austin's overall appeal, which is what brought those wealthy white liberals to Austin in the first place!
21. It's a HOT Climate. You'll want Air Conditioning.
This is not an exaggeration. If you like your winters and can't stand the heat, Austin isn't for you.
You can expect at least 30 days of the year above 100 degrees Fahrenheit and long summers that run from April to October.
Some summer days may even be too humid for your liking, particularly if the wind blows in the moisture from the Gulf.
As someone who can't stand the humidity, these hot-humid days force me indoors. But I also know people who really don't think Austin's humidity is all that bad compared to other places. So, it's subjective. It's certainly not the most humid place in the world, but it's also more humid than places like Phoenix and El Paso.
Overall, the heat of Austin is enough to force you into the air conditioning in July and August.
22. You need a Car
Austin is much larger than its original planners had ever intended it to be. So, the transport infrastructure is always in a state of catch-up.
There is an extensive bus network, but expect to be waiting 30 minutes for a bus in some areas.
There's also a small but seriously insignificant light rail system. The city has big plans to expand it. At the moment, there's only the red line that runs from Leander to Downtown.
In other words, Austin is an all-American car city. You'll need a car to get around.
23. The Traffic
Compared to Dallas and Houston, Austin's traffic is pretty bad.
According to Tom Tom's traffic data, Austin has the 13th worst traffic in the United States. But, when comparing it to neighboring cities, you really see that Austin isn't performing well at all. If you hate sitting in traffic, you might prefer to head to Dallas where the traffic is significantly better.
An Austinite who drives to work in the city can expect to spend a cumulative 4 days per year sitting in traffic. But, when you compare that to Los Angeles, where people spend an extra week per year sitting in traffic, Austin's still doing okay.
Overall, I'd give Austin a 'below average' grade for its traffic record, especially because it doesn't do nearly as well as Dallas or Houston on traffic metrics. The transit infrastructure needs to catch up with the fast-growing city.
24. The Fraternities
Any town with a big university has its annoying College students. But it feels like Austin's got more than its fair share.
The fraternities and sororities are all gathered near UT just north of Pease district park. But, like most early 20s Austinites, many of the over-21 university students hit the bars on sixth street hard. So, they're super visible around town during school term.
25. High Property Taxes
While Texas does not have property taxes on a state level, Travis, Hays, and Williamson counties (in which Austin sits) each have their own property taxes.
Depending on where you are in Austin, expect to pay between 2.2% and 2.5% property tax when you sell your home.
Overall, these property tax rates are significantly higher than the US average of 1.07% and California's average of 0.73%. So, while Austinites save on state-level income tax, they're taxed elsewhere to ensure the city lights stay on.
26. Bad Allergy Season
Along with a long summer, Austin also has a very long allergy season.
Austin Regional Clinic has an excellent graph showing the allergies that occur at different months of the year. It shows some pretty significant allergens year round, with a spike of:
Mountain cedar allergies in January,
Oak allergies in March to April
Grass allergies through summer, and
Ragweed allergies through the fall.
27. Liberalism
It's hard to know whether to place "it's a very liberal city" into the pros or cons section of this list.
Of course, for liberals seeking a home in a conservative state, it's clearly a massive positive. It can be a pro-LGBTQI location for queer people living in an otherwise conservative heartland. And the city claims to care about the things you do: climate change, social justice, etc.
But, for conservatives, it's a city trying to change the face of the Texas they know and love. And I think the number of conservatives who are offput by the influx of liberals into Texas cities is why I've eventually put this point in the 'cons'.
28. Rising Cost of Living
Sure, Austin is still one of the more affordable cities in the United States. But the costs are rising.
And that has a lot to do with the city's rapid growth, as well as rising wages, according to CBS Austin. This is a common problem associated with gentrification. And Austin has been a city that's been gentrifying and growing at faster-than-average-rates for quite a while. Therefore, inflation of cost of living follows.
29. Lines
It feels like you're in a line-up for everything.
Here's another example of how Austin is outgrowing itself. It wasn't built to be as big as it is, and so it feels over-crowded a lot of the time.
This means you're going to be waiting in line – a lot. There are long lines at grocery stores, cafes, museums, brew halls, or anywhere! Look out for the signs telling you where to line-up. Texans don't look too kindly upon people pushing to the front of the line.
30. Not the Best for Sports Teams
Austin has only one major league sports team.
And it's not a super popular one as far as all-American sports go. It's Austin FC, who made it to Major League Soccer in 2021 for the first time.
Their baseball, basketball, and football teams don't make the cut unfortunately. So, you'll have to head north to Dallas to enjoy a Mavericks game (look out for Mark Cuban). Dallas also hosts the Dallas Stars, Texas's major league NHL team.
Football fans might want to make the trip south to Houston Texans (NFL) or Astros (Baseball).
31. It's Inland
The nearest coastal beach is about 3 hours drive away.
If you love surfing or lying out on the beach listening to the waves hit the shore, you'll be disappointed by Austin.
The lack of coastal breeze is also another contributing factor to the humidity that could be a little high for some people.
For people who need some beach in their life, there's the coastal city of Houston about 3 hours to the south-east. But, even Houston hasn't got the amazing beach culture of west-coast cities like San Diego. At the end of the day, you're losing the coastal lifestyle but gaining an affordable inland city.
Fortunately, the plentiful lakes and parks in the region will help you adjust. Trade that surfboard in for a paddle board.
Conclusion
Austin is an up-and-coming city that's full of opportunity. The growing tech sector, relatively low cost of living, and great music scene make it the perfect city for many younger singles and families seeking an opportunity to get ahead.
While there are some downsides, such as the traffic and the crazy summer heat, many people in recent years have made the move to Austin due to the amazing pros of this beautiful American city.
Banner Image by inthepewsshow from Pixabay
State Capitol Image by 1778011 from Pixabay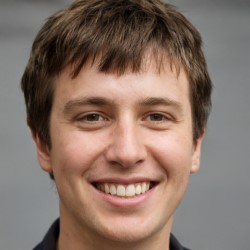 Jason Dempsey is the CEO and Co-Founder of Home City Living. After abandoning the corporate world in order to indulge his wanderlust, Jason founded Home City Living with his partner Rose to create the premier source of travel information and inside local knowledge on the web to help other would-be global explorers and seekers learn to spread their wings and fly.