San Diego and Austin are two vibrant cities that are attractive to people in their 20s and 30s looking for a city to put down roots. They're oddly similar in their appeal, being a similar size and attracting a younger crowd.
The key difference between living in San Diego and Austin is that San Diego is more expensive but has a more comfortable climate. The appeal of Austin is its low cost of living and vibrant music scene.
Who Would Like Living in San Diego?
Surfer Sam
San Diego has beaches and surfing culture that Austin can't match. It's got that typical California beach vibe.
Craft Beer Carly
While Austin has its own fair share of craft beer, nothing beats San Diego's amazing and more mature craft beer culture.
Who Would Like Living in Austin?
Low-Cost Chris
Austin has a lower cost of living than San Diego, making it a great city to chase the American dream of home ownership and a good job.
Musical Melinda
Live music is as the heart of Austin culture. If you love listening to live music on a warm Summer afternoon, this is the city for you.
This review compares Austin and San Diego on key considerations for people considering moving to and living in each city. These include:
Culture: Tie
Outdoor Access: San Diego Wins
Cost of Living: Austin Wins
Weather: San Diego Wins
Traffic and Transit: Tie
Job Prospects: San Diego Wins
Crime: Tie
Sports Franchises: Tie
Raising a Family: Austin Wins
See Also: 31 Pros and Cons of Living in San Diego
See Also: 31 Pros and Cons of Living in Austin
Living in Austin vs San Diego

1. Culture
Key Points:
Both San Diego and Austin are majority-minority cities,
Both cities are known for being laid-back and easy going.
Austin and San Diego have remarkably similar demographics.
Austin has 48% of the population as non-Hispanic Whites, while San Diego has 45% of the population as non-Hispanic Whites. Blacks make up 8% of Austinites and 6% of San Diegans. Hispanics make up 28% of San Diegans and 35% of Austinites.
So, both cities are majority-minority cities with a strong demographic mix of Hispanics and Whites.
Both cities also have a reputation for being quite laid-back.
Austin has this reputation thanks to its sub-culture of liberal musicians who have flocked to the city since the 1970s. San Diego has this reputation largely in contrast to LA, which is a more bustling metropolis.
San Diego is also known for its beach vibes surf culture, which contributes to this sense that it is laid-back.
2. Outdoor Access
Key Points:
San Diego has excellent beaches.
Austin has excellent lakes.
Sometimes Austin can get too hot.
When it comes to outdoor access, both cities have a lot going for them. But, for me, San Diego wins this battle.
San Diego has plenty of amazing white sand beaches up and down the San Diego County coastline that are incredibly appealing to surfers, swimmers, and sun bathers alike.
Of San Diego's beaches, some standouts include:
Ocean Beach City Beach – Popular for its license-free fishing along the pier.
La Jolla Cove Beach – A Swimmer's beach with a great family atmosphere.
Pacific Beach ('PB') – A long sandy beach with designated surf and swim areas.
If you're in Austin, you'll have to settle with the popular Barton Springs public pool and recreation area or one of the seven nearby lakes.
Austin's lakes are definitely nice and, of the three main ones (Lake Austin, Lady Bird Lake, and Lake Travis), offer plenty of fishing, boating, and paddle boarding opportunities.
But they just don't compare to the beaches in San Diego.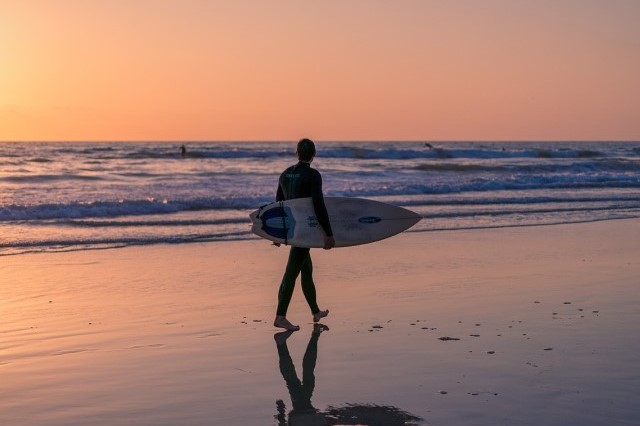 3. Cost of Living
Key Points:
When it comes to cost of living, Austin wins.
In fact, Austin is one of the most affordable large cities in the nation. It's the 11th largest city in the United States but there are 108 cities more expensive than Austin. In other words, it's generally much cheaper than comparably sized cities.
Using Numbeo's cost of living comparison chart, we can see that:
San Diego is the 30th most expensive city in the nation.
Austin is the 109th most expensive city in the nation.
San Diego's cost of living is comparable to Atlanta, Cleveland, and Sacrimento.
Austin's cost of living is comparable to Houston, San Antonio, and Salt Lake City.
Both cities are significantly cheaper than New York City and San Francisco.
Austin's cost of living is low in part thanks to the lower taxes in Texas. You won't have to pay state income tax, for example. San Diegans will have a higher tax burden thanks to California's higher state tax burden.
4. Climate and Weather
Key Points:
Both cities have very mild winters.
San Diego is cooler in summer and warmer in winter.
Austin's summers are long and hot.
Austin is more humid than San Diego.
Austin Rains more than San Diego.
The climate in San Diego is on balance more comfortable than the climate in Austin.
In San Diego, summers tend to be comfortable but not too hot thanks to the coastal breeze. Winters are very temperate, with January days sometimes still touching 70 degrees.
Austin's temperature is much more variable with significantly more rain and humidity. Winter can occasionally get a small, wet, dusting of snow, but nothing significant.
Summers in Austin can be very hot, with an average of over 30 days passing 100 degrees. Depending on the direction of the wind, these days can also get quite humid, forcing people indoors to the air conditioning.
So, overall, I think San Diego's climate is far more comfortable.
| | | |
| --- | --- | --- |
|   | Austin | San Diego |
| Avg. Days of Sun | 228 | 266 |
| Avg. Inches of Rain | 34.9 | 11.7 |
| Avg. July High (F) | 95.0 | 78.5 |
| Avg. Jan High (F) | 61.0 | 66.2 |
5. Raising a Family
For raising a family, Austin wins.
Housing is about 30% cheaper in Austin, and couple that with the overall lower cost of living and lower taxes, and it would come out to be a lot cheaper to raise a family in Austin than San Diego.
Furthermore, according to the World Population Review, child care is almost half the cost in Texas as it is in California. This is a huge cost-saver for parents.
I also like that Austin is a little smaller than San Diego and more spacious, allowing you to find suburbs that still have a nice small town cul-de-sac feel.
6. Traffic and Transit
Key Points:
Austin's traffic is worse than San Diego's.
Austin's light rail is not as developed as San Diego's.
Both cities have problems with traffic and public transit.
Austinites face worse traffic than San Diego. But both cities have their traffic and congestion problems.
According to Tom Tom's data, Austin is the 13th most congested city in the country. San Diego is 24th, making it substantially better off than Austin in the traffic congestion rankings.
And most San Diegans will happily announce that, while traffic is bad in San Diego, at least they're not stuck in an LA traffic jam. So, San Diegans usually grin and bear the bad traffic.
San Diego's light rail is more extensive than Austin's but still misses large areas of the surrounding suburbs, forcing people onto the roads.
For Austin, the problem has more to do with the fact the city is larger than it was ever intended to be. The city is playing catch-up by building a light rail that still has a long way to go. There is an extensive bus network, although busses could be much more regular.
7. Job Prospects
Key Points:
San Diego has strong biotech, tourism, and military industries.
Austin has a strong tech industry.
Austin and San Diego both have strong and diverse industries. Both cities have large hospitals and universities that are major employers. Furthermore, Austin is the capital city of Texas, meaning there are several job opportunities in politics and the public sector.
San Diego's military and tourism industries are also very strong, making it a city with excellent job prospects.
Both San Diego and Austin also have substantial tech industries. Just outside of San Diego, you can make your way to Sorrento Valley where there is a big biotech industry. Sorrento Valley also has some excellent suburbs and schools that could appeal to young families. For Austinites, you'd turn to west Austin's 'Silicon Hills' district to find the best tech jobs.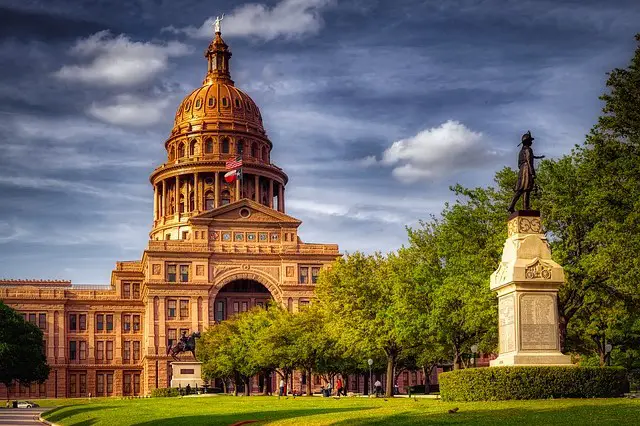 8. Crime
Key Points:
Both Austin and San Diego have moderate to low crime rates.
Austin sees more property crime than San Diego.
Like many other factors, San Diego and Austin appear to be comparable when it comes to crime rates. Violent crime is relatively low in both cities. Austin ranks 73rd and 77th for rates of violent crime out of the top 100 cities in the nation (where 1 is bad and 100 is good!). So, they're both tracking relatively well compared to similar sized cities.
When it comes to property crime, San Diego does very well – with 89 of the top 100 largest cities having worse property crime rates than San Diego. Austin sits 59th on that list.
So, overall, crime rates are relatively low in both cities.
9. Sports
Key Points:
Both cities have only one major league franchise.
To see major league NHL, NBL, and NFL games, you'd need to travel to nearby cities (Houston, Dallas, or Los Angeles).
If you're a big sports fan, neither city is going to be super appealing.
Austin has only one major league sports team, and it isn't an all-American sport. It's soccer! And the Austin FC only made it to major league soccer in 2021.
San Diego has had several major league sports franchises in the past, but the Chargers relocated to LA in 2017 and the Clippers relocated to LA in 1984. Now, San Diego's only major league team is the San Diego Padres who play in major league baseball.
Fortunately for San Diegans, most LA stadiums are only 2 and a half hours away, and Austinites can head north to Dallas or south to Houston for their fill of major league events.
Visiting Austin vs San Diego
This is a toss-up. Music fans need to put Austin City Limits on their bucket list, while families would probably find more to do in San Diego.
And it seems most people would agree. San Diego gets 35 million visitors, while Austin gets 30 million.
Austin's best attraction are the two big festivals: SXSW and Austin City Limits.
SXSW is held in March every year. Music and media fans flock to the city for the festival which often headlines huge acts like Lady Gaga and the Beastie Boys. Big brands have had their break-out successes at SXSW, including Twitter in 2007.
ACL is usually held in October and has features some super-star groups including Red Hot Chili Peppers, Pearl Jam, and Metallica.
In San Diego, there aren't the big headline festivals, but you do get a much wider array of museums and entertainment venues, including the famous San Diego Sea World. (For a SeaWorld near Austin, head 2 hours south to San Antonio).
Related Comparisons
Conclusion
In researching these two cities, I was surprised to find the big similarities between these two cities. Both are cities that are smaller cousins to nearby mega-cities (Houston and Los Angeles) and they're both attractive to younger people seeking somewhere to put down roots. They're also both quite warm cities being toward the lower half of the United States.
Nevertheless, there are some key differences – Austin does get hotter and more humid. Austin is also located in the South in a more conservative and affordable state, while San Diego is situated in the more expensive, coastal, surfer-culture southern California.
San Diego Skyline Image by Binh Du from Pixabay
Texas Skyline Image by inthepewsshow from Pixabay
State Capitol Image by 1778011 from Pixabay
Surfer Image by Jennifer Regnier from Pixabay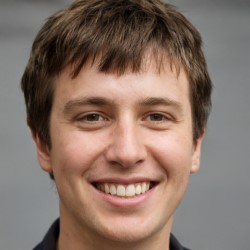 Jason Dempsey is the CEO and Co-Founder of Home City Living. After abandoning the corporate world in order to indulge his wanderlust, Jason founded Home City Living with his partner Rose to create the premier source of travel information and inside local knowledge on the web to help other would-be global explorers and seekers learn to spread their wings and fly.