The key differences between living in Phoenix and San Diego are the weather, cost of living, and traffic. San Diego is in a much more populated region of the country that has more traffic issues and higher cost of living. But, it also has more comfortable weather year-round and great beach access.
Despite their differences, Phoenix and San Diego are similar in several ways. They're both in the south-western region of the United States, close to the Mexico border, and both known for their beautiful sunny weather.
Who Would Like Living in Phoenix?
Snowbird Sally
Many people head to Phoenix during winter to escape the cold weather further north. There is great infrastructure and a good social scene for the elderly.
Low-Cost Chris
Phoenix has a much lower cost of living than San Diego. Housing prices and taxes are both lower.
Who Would Like Living in San Diego?
Cultured Carly
The food and craft beer scene are among the best in the United States.
Surfer Sam
San Diego has beaches and surfing culture that Phoenix can't match. It's got that typical California beach vibe.
This review compares Phoenix and San Diego on key considerations for people considering moving to and living in each city. These include:
Culture: San Diego has a beach vibe. Phoenix has a sleepy vibe.
Cost of Living: Phoenix is cheaper.
Weather and Climate: Phoenix is hotter, San Diego is comfortable year-round.
Traffic and Transit: Both are car cities. Phoenix has less traffic problems.
Sports Franchises: Phoenix has a much better range of major league sporting teams.
Outdoor Access: Phoenix is better for hiking and golfing. San Diego is better for surfing.
Job Prospects: San Diego has a slightly more resilient and diverse economy.
Crime:

Phoenix has a much worse crime rate than San Diego.
See Also: 31 Pros and Cons of Living in San Diego
See Also: 20 Pros and Cons of Living in Phoenix
Living in San Diego vs Phoenix

1. Culture
Key Points:
San Diego is known for being laid-back and easy going.
Phoenix is known for being a mecca for golfers and snowbirds.
Personally, I think San Diego wins in this category. The California surfer culture is strong in San Diego while Phoenix can lack character at times.
San Diego is known for its beach vibes surf culture, which contributes to this sense that it is a very laid-back place to live. It's also spoilt by its great beaches up and down the coast. There is permit-free recreational fishing on Ocean Beach City Beach, La Jolla Cove for a family vibe, and Coronado Beach for a tourist feel.
The craft beer culture is also very strong in San Diego, with no less than 150 breweries in the region. In fact, one of San Diego's nicknames is "The Craft Beer Capital of America".
Phoenix, on the other hand, is best known for its golfing culture.
It's got over 180 golf courses, many of which are set in beautiful dessert surrounds. The sunny weather in Phoenix makes it a great place for golfing, especially in the comfortable winters.
There's also great hiking in the areas surrounding greater Phoenix.
Nevertheless, Phoenix does have a reputation for lacking character. The urban sprawl and endless strip malls give off a sense that the city is a little cookie-cutter rather than a city with a great deal of history behind it.
2. Diversity
Key Points:
Both San Diego and Phoenix have diverse populations.
Phoenix and San Diego have similar demographics.
San Diego has 42.8% of the population as non-Hispanic Whites. Blacks and African Americans make up 6.4% of San Diegans. Hispanics make up 30.3% of San Diegans.
Phoenix has 42.5% non-Hispanic Whites, 42.6% Hispanic or Latino, and 7.1% Black or African American.
You'll notice the Mexican influence in both cities, particularly when it comes to the authentic and very affordable Mexican food around the downtown areas of both cities.
However, some critics believe Phoenix doesn't celebrate its diversity nearly enough. In fact, sometimes it feels like a very white city despite its great diversity. Hopefully this diversity will be celebrated some more in the future!
| | San Diego | Phoenix |
| --- | --- | --- |
| Non-Hispanic Whites | 42.8% | 42.5% |
| Hispanics and Latinos | 30.3% | 42.6% |
| Blacks | 6.4% | 7.1% |
| Asians | 16.7% | 3.8% |
Source: US Census
3. Outdoor Access
Key Points:
San Diego has excellent beaches.
Phoenix is a golfer's paradise.
There is good hiking in Phoenix.
When it comes to outdoor access, both cities have a lot going for them. But, for me, San Diego wins this battle.
San Diego has plenty of amazing white sand beaches up and down the San Diego County coastline that are incredibly appealing to surfers, swimmers, and sun bathers alike.
Of San Diego's beaches, some standouts include:
Ocean Beach City Beach – Popular for its license-free fishing along the pier.
La Jolla Cove Beach – A Swimmer's beach with a great family atmosphere.
Pacific Beach ('PB') – A long sandy beach with designated surf and swim areas.
Phoenix doesn't disappoint when it comes to the outdoors either. However, it's worth noting that summers get very hot and also suffer from monsoons passing through. This can push you indoors at certain times of the year.
For Phoenicians (yes, that's the official demonym for people from Phoenix), popular outdoor activities include:
Hiking – There is great hiking access around the city itself. There is also hiking in the Sonora Desert and 2 hours north in beautiful Sedona.
Golf – The city has become a golfing hub for the retirees and snowbirds who head down to Phoenix to escape the cold northern winters. There are over 185 golf courses in greater Phoenix and Scottsdale areas.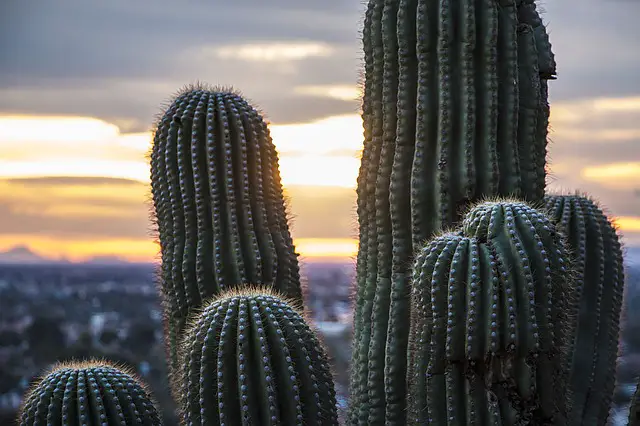 4. Cost of Living
Key Points:
San Diego is comparatively expensive due to its higher taxes and rent prices.
Phoenix has maintained a low cost of living by expanding into an urban sprawl. This keeps housing prices suppressed.
When it comes to cost of living, Phoenix wins. This is thanks to a range of factors including taxes and population pressures.
Using Numbeo's cost of living comparison chart, we can see that:
San Diego is the 30th most expensive city in the nation.
Phoenix is the 85th most expensive city in the nation.
San Diego's cost of living is comparable to Atlanta, Cleveland, and Sacramento.
Phoenix's cost of living is comparable to Orlando, Reno, Dallas, and Detroit.
Here, it's clear that San Diego has higher cost of living. The city's property prices have been trending up for years and are significantly higher than Phoenix property prices on average. California is also a higher tax state than Arizona, pushing up cost of living.
5. Climate and Weather
Key Points:
Both cities are much warmer than the US average.
San Diego is comfortable year-round while Phoenix gets very hot in summer.
Phoenix has a long monsoon season.
The climate in San Diego is on balance more comfortable than the climate in Phoenix.
In San Diego, summers tend to be comfortable but not too hot thanks to the coastal breeze. Winters are very temperate, with January days often still touching 70 degrees.
In Phoenix, summers tend to get very hot. There are over 100 days that exceed 100 degrees each year. The exceptional heat in Phoenix summers can be too much for many, forcing them into the air conditioning.
In fact, the peak season for golfing in Phoenix is winter.
There is also a long monsoon season in Phoenix that runs from late June through to late September. When monsoons come through the city, they bring with them humidity, flash flooding, and dust storms.
| | Phoenix | San Diego |
| --- | --- | --- |
| Avg. Clear Days per Year | 211 | 146 |
| Avg. Inches of Rain | 9.2 | 11.7 |
| Avg. July High (F) | 106 | 78.5 |
| Ag. January High (F) | 69 | 66.2 |
6. Traffic and Transit
Key Points:
San Diego's traffic is worse than Phoenix's traffic.
Phoenix has decent traffic year-round.
Both cities could have better quality public transport.
According to Tom Tom's data, Phoenix is the 42nd most congested city in the country. San Diego is 24th.
Given Phoenix has a higher population, the city clearly does a better job of managing traffic issues. This is, likely, thanks to the spread-out city laid out in a grid network.
Nevertheless, most San Diegans will happily announce that, while traffic is bad in San Diego, at least they're not stuck in an LA traffic jam. So, San Diegans usually grin and bear the bad traffic.
Both cities are car centric cities and you wouldn't want to rely on the public transit systems which (while each does have a light rail system) isn't particularly extensive.
The one good thing I'd say about the public transport in both cities is they both provide great links between the airports and downtown.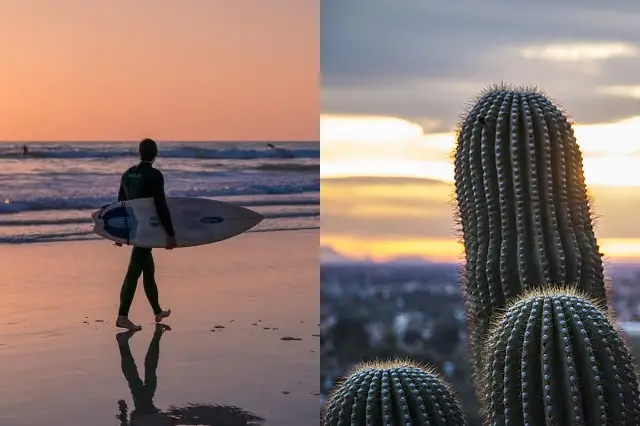 7. Job Prospects
Key Points:
San Diego has strong biotech and military industries.
Phoenix has a strong construction industry.
On this metric, I would again give San Diego the edge. Its biotech and military industries help add to the diversity and strength of the city's economy.
Phoenix, on the other hand, is heavily reliant on construction and real estate, which are vulnerable industries during recessions. For example, the city was hard hit by the 2008 recession.
However, as major hubs, both cities have substantial medical and higher education industries. They also both have sizable tourism industries, with Phoenix's peaking in winter for snowbirds and San Diego's peaking in summer.
8. Crime
Phoenix rates significantly worse for crime rates than San Diego.
According to Area Vibes, San Diego's crime rates are 10% below the national average while Phoenix's are 61% above the national average. What's worse, violent crime rates 84% above the national average.
Nevertheless, there are certainly safer neighborhoods in Phoenix with A+ crime rates, including Jen Tilly Terrace, Peterson Park, Lindon Park, and Sunset.
One thing worth noting is that both cities are known through points for illicit trade heading north from Mexico, although most regular residents won't notice these activities.
9. Education
San Diego's schools have a better reputation than Phoenix's. However, both cities have reputable universities.
Phoenix (and Arizona more broadly) has a bad reputation when it comes to public education. In fact, the World Population Review ranks Arizona 49th out of 50 in terms of quality of public education, while Area Vibes gives Phoenix an F rating for its education system.
San Diego, on the other hand, rates close to average for its public education system with its standardized test scores sitting 7% below national average. If you're living in the biotech cluster up near the Carmel Valley area just north of San Diego, their schools have a strong reputation.
The universities in each city (ASU in Phoenix and Cal State in San Diego) both have strong reputations.
10. Sports
Key Points:
San Diego struggles to keep Major League Franchises.
Phoenix has some great major league sport teams and stadiums.
There's no question that Phoenix is more appealing for sports fans.
Phoenix has many major league teams, including the Suns (NBA), Cardinals (NFL), Coyotes (NHL), Diamondbacks (MLB), and Phoenix Mercury (WNBA). And when snowbirds are down from the North, the local games can have a great atmosphere.
San Diego is lacking in sporting teams. While it had several major league sports franchises in the past, the Chargers relocated to LA in 2017 and the Clippers relocated to LA in 1984.
Now, San Diego's only major league team is the San Diego Padres who play in major league baseball.
Fortunately for San Diegans, most LA stadiums are only 2 and a half hours away.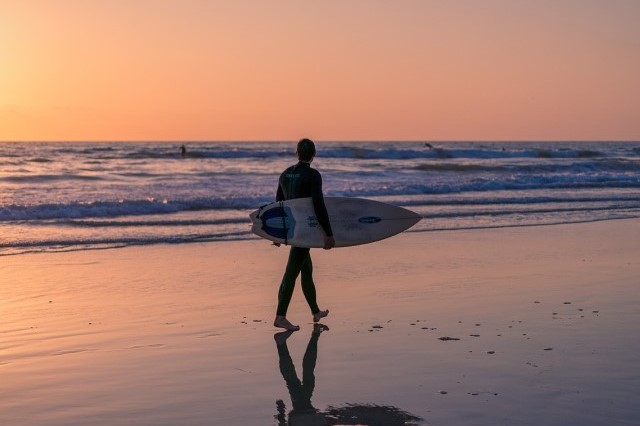 Visiting Phoenix vs San Diego
Personally, if I had to choose, I would visit San Diego before visiting Phoenix. But, pay attention to the time of year. It's best to visit San Diego in Summer, while Phoenix is best visited in winter and early spring to get the best weather.
San Diego gets 35 million visitors per year while Phoenix gets 44 million. However, the tourists are very different demographics. Phoenix has a big snowbird population who are generally older and retired Canadians and Midwesterners. San Diego gets many international tourists.
San Diego has some great things to do for tourists. These include the museums and sights around Balboa Park, the amazing beaches up and down the coast, and of course its famous Sea World.
Phoenix's tourism is mostly catered toward golfers and retirees heading down in their RVs. However, it's definitely worthwhile heading to a Phoenix Suns game and going north to Sedona for a visit.
Related City Comparisons
Conclusion
San Diego and Phoenix are geographically close – both sitting in the south-west near the Mexico border. They are also of similar sizes. But, they're also very different. San Diego has a better climate and has great beaches while Phoenix is hot, dry, and caters to an older crowd.
The thing that Phoenix really has going for it is the low cost of living. Despite this, the crime rates and education systems are well below the national average.
San Diego Skyline Image by Binh Du from Pixabay
Surfer Image by Jennifer Regnier from Pixabay
Phoenix Banner Image by ParsonsVillas from Pixabay
Phoenix Cactus Image by samuriah from Pixabay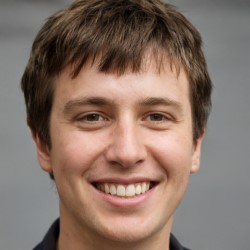 Jason Dempsey is the CEO and Co-Founder of Home City Living. After abandoning the corporate world in order to indulge his wanderlust, Jason founded Home City Living with his partner Rose to create the premier source of travel information and inside local knowledge on the web to help other would-be global explorers and seekers learn to spread their wings and fly.