Los Angeles and San Diego have many things in common, including the weather, great beaches, and a multicultural flair. Both also have international airports for convenient international travel.
The key difference between living in Los Angeles and San Diego is that San Diego is more laid-back than Los Angeles. Los Angeles is a more glamorous fast-paced global city. San Diego also tends to be a little cheaper and have lower crime rates overall.
Who Would Like Living in San Diego?
Family Fred
San Diego is better for raising a family than Los Angeles. It's more laid-back and a little cheaper.
Laid Back Lisa
San Diego is a laid-back city for people who love to surf and spend their days outdoors.
Who Would Like Living in Los Angeles?
Metro Mel
If you love living in big cities, you might prefer LA. It's got all the trappings of a global metropolis.
Immigrant Izzy
Los Angeles is welcoming to immigrants with sub-cultures from all around the world.
See Also: 31 Pros and Cons of Living in San Diego
See Also: 23 Pros and Cons of Living in Los Angeles
Living in Los Angeles vs San Diego
1. Culture
Key Points:
Both LA and San Diego are very multicultural with high numbers of Spanish speakers.
LA is perceived to be more glamorous but also vainer than San Diego.
San Diego is perceived to be more laid-back than LA.
Los Angeles and San Diego are very similar culturally. The main differences are that LA attracts people seeking a fast-paced atmosphere while San Diego is more laid-back.
Both cities embrace their beachside identities. Beaches in LA are bustling with flamboyant characters enjoying the sun, while San Diego beaches are known for their surfers and recreational fishermen.
In terms of cultural diversity, both Los Angeles and San Diego are multi-cultural cities with a wide range of sub-cultures. Each has a significant Spanish-speaking and Hispanic population and both are generally welcoming of immigrants from overseas and other cities.
LA is known to be a city full of vanity. It has gotten this reputation thanks to its strong Hollywood influence. This is evident in its plastic surgery culture, where it's got one of the highest numbers of plastic surgeons per 100,000 people (although, Miami beats it!).
Generally, people tend to think San Diego is a little more laid back than LA. But, this is all relative. Both cities have a laid-back feel compared to the larger East Coast cities like New York and Chicago.
2. Outdoor Access
Key Points:
Both cities have great access to beaches, deserts, and mountains.
San Diego's beaches are less crowded.
San Diego has slightly better access to beaches, more beaches, and less crowded beaches.
You'll also find a greater variety of beach options, including permit-free recreational fishing on Ocean Beach City Beach, La Jolla Cove for a family vibe, and Coronado Beach for a tourist feel.
San Diego is also a little closer to the southern deserts, including the famous Anza-Borrego Desert State Park. But, to be honest, it's not that far from LA either.
As a positive for LA, there is definitely slightly better access to the northern mountains and local ski hills including Snow Summit, and it's also a few hours closer to Mammoth, which is a far superior ski hill up north.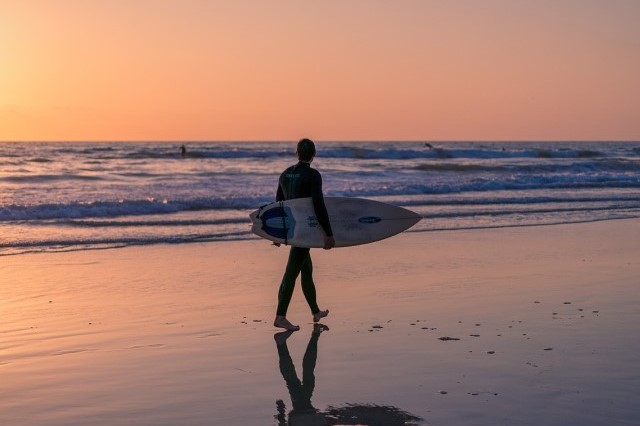 3. Cost of Living
Key Points:
Both LA and San Diego have high cost of living.
Both cities have high tax rates.
San Diego is slightly cheaper overall.
Both LA and San Diego are very expensive, but on balance LA is a little more expensive. In fact, many ex-LA residents have moved south into San Diego county for a slightly lower cost of living.
Using Numbeo's cost of living comparison chart, we can see that:
LA is the 21st most expensive city in the nation.
Both cities have a cost of living comparable to Portland (OR) and Chicago (IL).
Both cities are significantly cheaper than New York City and San Francisco.
You'll need to factor in the fact that LA and San Diego are both subject to California taxation, which is 10th highest in the nation.
The San Diego suburbs and neighborhoods of La Jolla, Del Mar Heighs, and North City have very high rental and house prices which may be comparable to more expensive areas of LA.
Surprisingly, San Diego and LA also have comparable childcare costs.
But Angelinos will have to factor in the very high cost of owning a car thanks in part to the amount of time spent idling in traffic (which amounts to 119 hours per year per citizen).

4. Weather
Key Points:
LA and San Diego have similar climates.
LA has more rain but also more sun. LA is also slightly hotter on average.
Neither city gets snowfall except for during rare weather events.
Being just 2 hours' drive apart, LA and San Diego have around about the same weather conditions year-round.
For all intents and purposes, the weather conditions are just about the same. Both cities sit on the South-Western coastline of the continental US and face the same weather patterns.
The weather in both cities is temperate year-round, with relatively warm winters and sunny, comfortable summers.
However, if you dig into the data, you can see some small differences in weather conditions:
| | | |
| --- | --- | --- |
|   | Los Angeles | San Diego |
| Avg. Days of Sun | 284 | 266 |
| Avg. Inches of Rain | 15.5 | 11.7 |
| Avg. July High (F) | 83.6 | 78.5 |
| Avg. Jan High (F) | 68 | 66.2 |
5. Raising a Family
For raising a family, I would have to give the win to San Diego. It has more space and a more laid-back vibe than LA.
And while I've already noted that San Diego is comparatively as expensive as LA for childcare options, the outer suburbs in San Diego County have cheaper housing options than that of LA.
In my totally subjective estimation, LA is probably better for younger people before they have kids as it's bustling and more glamorous. But when it's time to settle down, I'd head down to the more relaxed vibe of San Diego.
The crime and homelessness are also a little less noticeable in San Diego, which is reflected in its slightly better position on national crime statistics than LA.
But, overall, both are good cities with plenty of options for good suburbs with good school districts.
6. Traffic and Transit
Key Points:
Both cities are predominantly 'car cities'.
Both cities have underfunded metro networks.
San Diego's traffic is not great, but far better than LA's.
This is one of those points that is completely relative. San Diegans sitting in traffic love to say "at least it's not LA", making themselves feel better about their slightly 'less bad' traffic jams.
But, were I comparing San Diego to somewhere like Phoenix (AZ), I would be highlighting just how bad the San Diego traffic is, relatively.
It's no secret that traffic in LA is horrible and a massive turn-off. It's consistently rated by TomTom as the city with the worst traffic in the USA. By contrast, San Diego usually sits in the mid-20s on that list, well below cities like Seattle, San Jose, and Austin.
Public transit in both cities is also available but not great. The San Diego Trolley runs well north of the city, but you would need to buy a home close by or you likely won't use it. Similarly, the LA metro is nowhere near the quality of extensiveness of the New York subway, which is why people generally prefer to drive.
One thing I would say that's positive about San Diego is that it's super easy to get from the airport to downtown.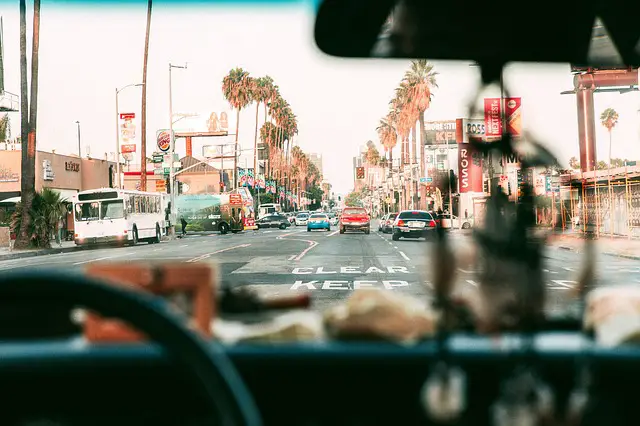 7. Job Prospects
Key Points:
Both cities have strong healthcare and education industries.
LA has a strong film industry.
San Diego has strong biotech and military industries.
Los Angeles is home to some of the largest healthcare providers in the United States, employing an enormous amount of Angelinos. There is also a very large education sector propped up by UCLA.
And of course LA has a big film industry. While there are many jobs in the film industry, it's competitive to break into the industry, particularly because many people flock to LA to get a foot in the door in film production and entertainment more broadly.
Just north of San Diego in Sorrento Valley there is a sizeable biotech industry that employs many people, with good neighborhoods and schools nearby. There is also a significant naval base in San Diego that is regularly hiring.
San Diego also has its own education and healthcare sectors, although they are not as large as LA's.
8. Crime
Key Points:
Both cities are in California, a state known for high crime rates.
LA's crime rates are usually higher than San Diego's.
LA has a bigger homelessness problem, but San Diego's is also an issue.
California has a higher crime rate than other areas of the United States. Within California, LA and San Diego are by no means the worst cities to live, although each city has its no-go areas.
LA has a higher crime rate than San Diego, with LA ranking 43rd and San Diego 72nd in North America.
San Diego which generally has surprisingly low crime in most categories except for vehicle theft, where it seems to struggle. Unfortunately, because it's a driving city, you'll have to accept that there will be times your car will be left unattended around town.
LA also struggles with a very significant homelessness problem which may contribute to the crime rate and general fear of crime. While San Diego historically had low homelessness, growing cost of living has caused homelessness in San Diego to rise to worrying levels in recent years.
9. Sports
Key Points:
San Diego struggles to keep Major League Franchises.
The Chargers moved from San Diego to LA in 2017.
The Clippers moved from San Diego to LA in 1984.
If you're a big sports fan, LA is your city.
In the major leagues, they're home to the Clippers (Basketball), the Dodgers (Baseball), Chargers (NFL), the Rams (NFL), LA Galaxy (Soccer), and the LA Kings (Ice Hockey).
San Diego has had several major league sports franchises in the past, but the Chargers relocated to LA in 2017 and the Clippers relocated to LA in 1984. Now, San Diego is a baseball city, being home to the San Diego Padres.
Fortunately for San Diegans, most LA stadiums are only 2 and a half hours away, so you can get your fill if you're a die-hard sports fan!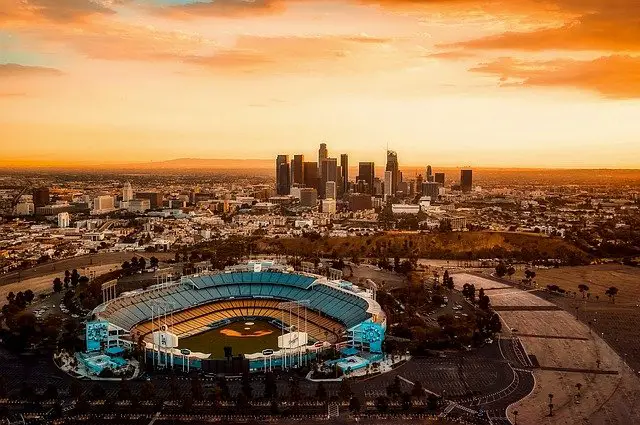 Visiting Los Angeles vs San Diego
For tourists who can only see one of these two cities, to me it's a no-brainer: go to LA.
It's a bustling world city that's definitely worth checking out. It's got the excitement of Hollywood, including some fun trips you can take around the neighborhood to see celebrities' luxurious homes.
You can also head up to the famous Venice Beach and Santa Monica Pier to soak up the amazing atmosphere.
However, for domestic travel or people staying longer, it's well worth taking a drive up and down the California coastline to see some of the smaller coastal towns with a more chill California vibe.
Head down to San Diego to check out the beaches along the i5 (San Diego Freeway) such as San Onofre state beach and Laguna beach. On the way, you can also check out the towns of Carlsbad and San Clemente.
In San Diego, enjoy the amazing Balboa Park with its countless museums then head across to the famous San Diego Sea World. You can also head downtown for delicious Mexican food from the food trucks and a beer from one of the over 150 San Diego microbreweries.
Related Comparisons
Conclusion
Everyone's going to have their own subjective opinions of each city. It depends on what your experience was when you were there, your history living in each city, and your personal preferences.
Personally, I think LA is a great city for your 20s when you want to live a fun, adventurous life in a glamorous city. But when it's time to settle down, relax, and enjoy the simple things in life, San Diego wins. It's more laid-back and has less of the stresses of LA, like terrible traffic and higher crime rates.
Hollywood Sign Image by David Mark from Pixabay
Skyline Image by Maxx Girr from Pixabay
In-Car Image by StockSnap from Pixabay
Panorama Image by Binh Du from Pixabay
Surfer Image by Jennifer Regnier from Pixabay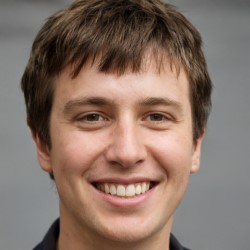 Jason Dempsey is the CEO and Co-Founder of Home City Living. After abandoning the corporate world in order to indulge his wanderlust, Jason founded Home City Living with his partner Rose to create the premier source of travel information and inside local knowledge on the web to help other would-be global explorers and seekers learn to spread their wings and fly.