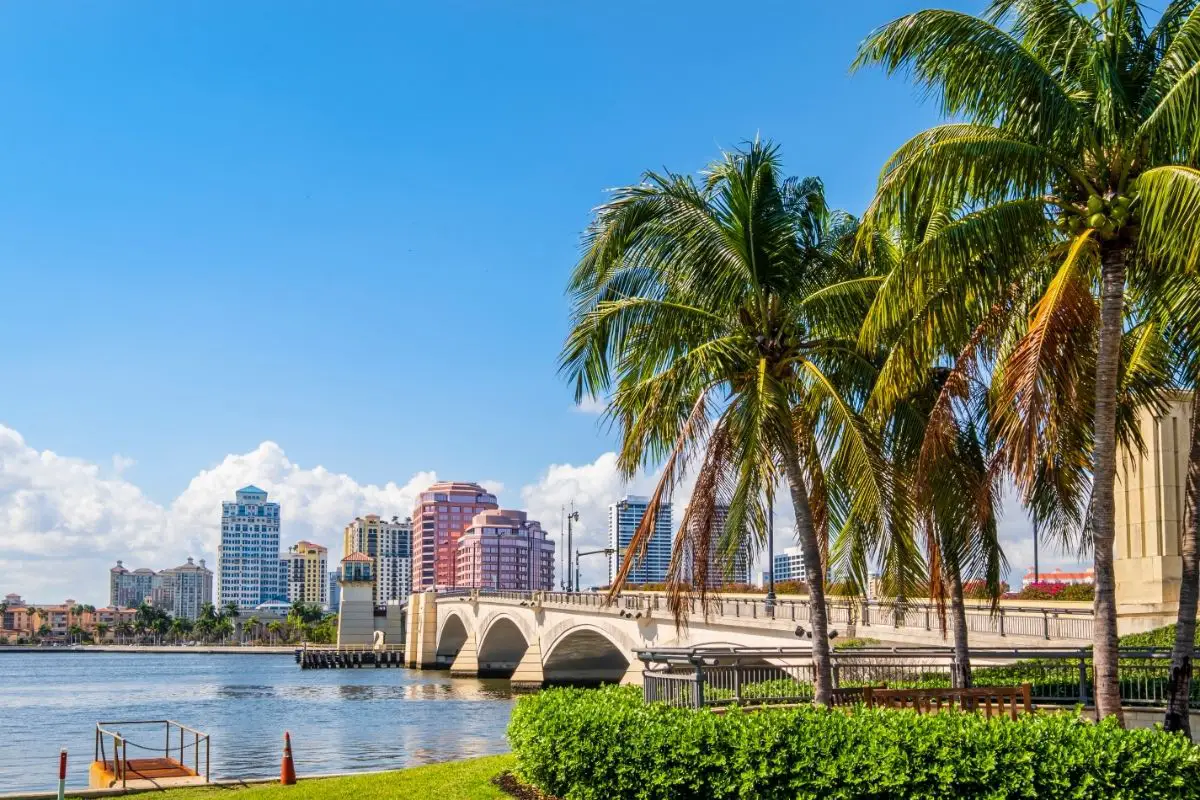 West Palm Beach, just across the bridge from the more expensive and exclusive Palm Beach island, is an affordable alternative to Palm Beach where you can enjoy the location without the price tag.
West Palm Beach is mixed with lots of lush green spaces, impressive towering buildings, and lots of leisurely activities. 
West Palm Beach is mixed with lots of lush green spaces, impressive towering buildings, and lots of leisurely activities. 
Despite this, like any place, West Palm Beach does come with a few drawbacks.
High insurance costs, traffic, and the crime rate are all worth considering before deciding to move here. 
We've listed the pros and cons of living in West Palm Beach below, so you can decide once and for all if you and your loved ones would be happy here. 
Advantages Of Living In West Palm Beach
1. Fantastic Weather
West Palm Beach is a hotspot for tourists during the summer months, but even in winter, residents can bask in pleasant sunshine and temperatures around 74°F.
The city is prone to warm weather as it is located near the Gulf Stream. This is a river with warm water that's sourced from the Gulf Of Mexico. 
However, the city also receives lots of rainfall, which along with the warm weather, gives the location a tropical feel. The conditions are also great for budding gardeners who can grow more tropical fruits than in most other parts of the United States. 
The city makes for a lovely winter destination for tourists from the North.
Everyone here loves the stunning beaches and the sunny weather, making West Palm Beach a great place for residents and visitors alike. 
2. No State Income Tax
Florida is one of seven states which do not charge their citizens for income tax. This is one reason why many wealthier people like to head to the state.
Some companies will have to hand over 5.5% in corporate taxes, and Florida's inhabitants will have to pay a 7% tax on retail goods, though the local government will take 1% of this for their fund. Despite this, important items, like specific groceries and vital household medications are exempt from tax.
Householders will have to pay property taxes, the average of which is 1.13%, which works out to an average of $3200 every year.
This does look like a lot, but remember that there isn't any income tax! When you factor this in, the amount of tax paid is generally low compared to states like California and Massachusetts. 
3. Thriving Economy
Florida has a prosperous job market, as job seekers can choose from several industries, including food, retail, and hospitality.
College-educated individuals can also look for jobs in education, healthcare, and technology.
Other than jobs in the area, several residents choose to earn their income from their businesses. As West Palm Beach is so popular with tourists, small businesses are in an excellent position to keep running well. In fact, the economy is propped up, in part, by the significant tourist industry. This helps the local restaurants and boating clubs to survive and thrive, especially in the Summer.
4. More Affordable than Palm Beach
Palm Beach, the neighboring city, is known for its high cost of living. It is home to the rich and famous as well as many self-made millionaires. But West Palm Beach is a more affordable home city for Florida locals.
To elucidate this point, we need only look at the two cities' comparisons to the Floridian average cost of living. Whereas Palm Beach is 96% more expensive than the Florida average, West Palm Beach is just 6% higher than the Florida average.
Of course, part of the reason for these high costs in Palm Beach are the many amenities and factors that make it such a desirable place to live. The 'exclusivity' factor pushes up the prices.
But for those who want to experience all that Florida has to offer without breaking the bank, West Palm Beach is the perfect solution.
5. Active Lifestyle
As there are so many outdoor activities and cultural events to enjoy, West Palm Beach citizens and visitors are kept busy throughout the year.
Other than these events, West Palm Beach has lovely walking, biking, and hiking trails to keep physically active. And with the great year-round weather, there's no excuse not to go outside.
Water sports enthusiasts won't be bored either, as there are many swimming, diving, kayaking, and boating spots to enjoy.
West Palm Beach is also known as a golfing capital of Florida, which explains why many residents in the vicinity love to play golf. There are ample golf courses for golfing enthusiasts, as well as excellent weather for golfers year round!
There are lots of things to keep West Palm Beach's residents active and healthy, which contributes to a better lifestyle overall. 
6. Undervalued Real Estate
The property value in West Palm Beach differs depending upon the neighborhood, but the value is still less compared to other popular cities within Florida.
People priced out of Palm Beach could consider some of the higher-end neighborhoods in West Palm Beach and buy a house for a much better price. If you're seeking to be a homeowner, chances are you'll be looking to live in a satellite suburban residential region (consider Prospect Park or the Southend), or consider renting a luxury apartment or condo downtown to rent. 
Rent in West Palm Beach may be higher than the national average, but there are rent spaces available for under $1000 in low-cost areas, such as the region around South Tamarind. 
7. Many Recreational Activities
West Palm Beach has a ton of recreational activities, providing locals and visitors with many things to do. One example is the two-week-long fun fair in January.
Held in the South Florida Fairgrounds, this is a fantastic way to kick off the year. People can enjoy the many games, rides, food, and live music. 
Another example is Sunfest, Florida's biggest music festival. Held on the waterfront, the festival lasts for five days and showcases a wealth of different artists.
The audience can listen to various tunes while taking in the beautiful scenery from the water between the coastlines. 
Boating enthusiasts will find the Palm Beach International Boat show entertaining. This showcases several kinds of boats, including jet skis, fishing boats, and yachts.
There are even superyachts worth over $1.2 billion on show for the public to take in. The show also has features like live music, boating lessons, and even a foreign car display. 
There are so many things to do within West Palm Beach, so you're very unlikely to be bored throughout the year! 
Disadvantages Of Living In West Palm Beach
1. Natural Disasters
Natural disasters such as storms and hurricanes are known to affect West Palm Beach. These events usually occur once every decade.
The storms tend to be category three-level and reach a wind speed of 111 miles per hour. 
Ten years does seem like a long time, but keep in mind that the storms can cause massive devastation. This doesn't take into account the less serious storms that ravage the area every year.
West Palm Beach's citizens also occasionally have to deal with frightening sinkholes that can appear out of nowhere! These occur as water underground makes the ground softer, which then moves to make pits in the earth. Sinkholes can reach large sizes, causing damage to roads, buildings, and cars. 
2. Pricey Insurance
As Florida is a hotspot for natural disasters, the insurance costs are quite high within the state. This is also the case for West Palm Beach.
Occasional hurricanes and storms mean that the cost of automotive and home insurance remains high. Residents in West Palm Beach cannot forgo insurance, as storms and hurricanes will always cause some kind of damage.
Florida's hurricane season lasts six months, so citizens will need to be prepared for that half of the year, although most hurricanes have hit in August to October.
3. High Crime
West Palm Beach may have its advantages, but unfortunately, the location is known for its high crime rate.
In some parts of the city, people are twice as likely to fall victim to crime compared to other areas in Florida. 
Overall, victims of serious crimes amount to roughly 8.28 people out of 1000 every year. Theft and mischief are higher, with 48.27 out of 1000 affected each year. 
West Palm Beach may have a high crime rate, but there are some safer places to live within the city.
These include parts around the waterfront and towards the west among the suburban development locations.
4. High Living Costs
While I noted earlier that West Palm Beach is relatively affordable compared to Palm Beach, keep in mind that it's still somewhat more expensive than many other areas.
The living costs of residing in West Palm Beach are 17% higher compared to comparable cities in the USA, and overall 6% higher than the rest of Florida. The most expensive costs tend to be transportation and housing.
Cars are essential to travel around West Palm Beach. Along with the overpriced parking charges, a good chunk of your paycheck will be going towards vehicle maintenance.
The average income in West Palm Beach is $45,000 a household. This is less than the national average.
People that live on their own may fare better on $38,000 a year, but after bills are paid, there isn't much to put towards saving. Families will need even more to live comfortably.
A household of four will need to earn $85,000 a year to manage high living costs, which isn't feasible for most people. 
Lastly, as West Palm Beach is so warm, air conditioning is a necessity, but it can cost a lot.
The added energy consumption can lead to greater charges and expensive bills. It can be tough to forgo air conditioning, so you should consider this before moving to the city. 
Conclusion
West Palm Beach is a beautiful location with lots of things to do, but it does come with a downside.
Unfortunately, a high crime rate and propensity for natural disasters are two serious drawbacks. 
If you are thinking about moving to West Palm Beach, you should think carefully about whether the drawbacks outweigh the advantages and vice versa.
If you think that you'd prefer to live in a safer area, consider your neighborhood carefully. 
But, if you are enthralled by the lush spaces, many activities, and amazing economic opportunities, West Palm Beach could be the perfect new home for you!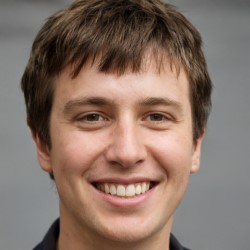 Jason Dempsey is the CEO and Co-Founder of Home City Living. After abandoning the corporate world in order to indulge his wanderlust, Jason founded Home City Living with his partner Rose to create the premier source of travel information and inside local knowledge on the web to help other would-be global explorers and seekers learn to spread their wings and fly.