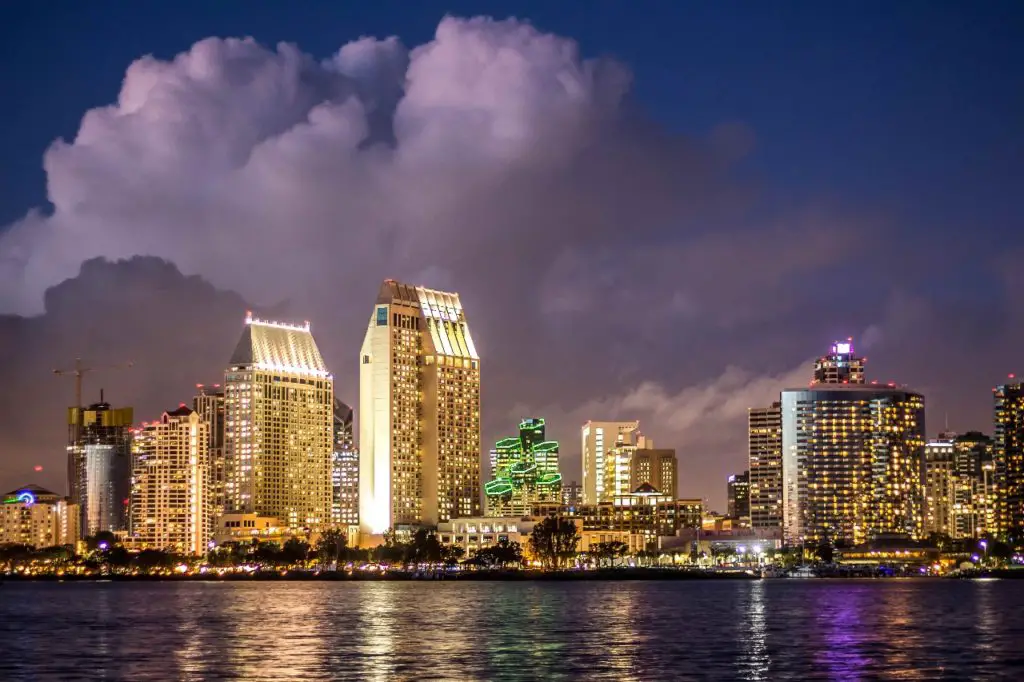 San Diego and Philadelphia are two mid-sized US cities (populations of 1.4 million and 1.6 million respectively). The main difference between Philadelphia and San Diego is the weather. San Diego has a warm coastal climate year-round (it's right next to Mexico), while Philadelphia has hot summers but cold winters.
Both are vibrant cities with great food and restaurants. People in Philadelphia have a little less space, so it's a real old city feel. San Diego is a bit more spread-out and laid-back with a true west coast feel. San Diego is probably a better option if you're into beaches and the outdoors, while Philadelphia is a good choice for people who love living in big cities.
Who Would Like Living in Philadelphia?
Big City Bill
Philadelphia is a large, older, established east-coast city that has the true big city feel. San Diego is more spread-out and doesn't have that big city atmosphere.
All Season Aaron
If you need to experience all four seasons to be happy, Philadelphia is the better pick. It's got snowy winters and warm summers, while San Diego has warm weather year-round.
Who Would Like Living in San Diego?
Surfer Sam
San Diego has beaches and surfing culture that Philadelphia can't match. It's got that typical California beach vibe.
Craft Beer Chris
Nothing beats San Diego's amazing craft beer culture. It's even nicknamed the craft beer capital of America.
See Also: 31 Pros and Cons of Living in San Diego
Cost of Living in Philadelphia vs San Diego
1. Housing Costs
| | Average Rent |
| --- | --- |
| National Average | $1,465 |
| San Diego Average | $2,238 |
| Philadelphia Average | $1,666 |
Housing costs are higher in San Diego than in Philadelphia. However, both are more expensive than the national average and residents in both cities experience housing stress.
In Philadelphia, renters pay more than half of their income to landlords. Philly is expensive and crowded, but there are cheaper options to consider. Living with roommates can help cut costs. 
The average rent for a Philly apartment is around $1,666, compared to a national average of $1,465. Average rents are highest in neighborhoods like Belmont, Saunders Park, University City, and Powelton. Rents are lowest in neighborhoods like East Oak Lane, North Philadelphia, and South Philadelphia.
You can find cheap apartments in less-trendy parts of town. If you want to live near the center of the action, check out the Fishtown area of the Olde Kensington neighborhood.
In San Diego, around half of the residents are renters. The average rent stands at around $2,238, while the national average is $1,463. With this in mind, you may find that your housing costs are very high compared to other cities.
The most expensive neighborhoods in San Diego (Little Italy, North City, La Jolla) are a whopping $3,500 per month in rent on average. Sharing with roommates or renting rooms can significantly drop your rental costs in San Diego.
2. Utilities
The cities have comparable costs of living, although heating costs are higher in Philadelphia due to the climate.
Philadelphia residents pay about $150 per month for basic utilities and internet. This is similar to other cities such as New York City ($168) and Chicago ($167), but slightly less expensive than the national average ($229).
San Diego's warm Mediterranean climate makes it possible to avoid using heating during the winter months. However, summer temperatures make air conditioning necessary. Average monthly bills are about the same as the national average.
3. Food Costs
Grocery bills are comparable in both cities, but more expensive than the national average.
Philly is known for having some of the most delicious foods in America. However, if you're looking for cheap food, then you should go somewhere else. Philly isn't as cheap as many other places. 
You'll probably spend more money eating there than in lots of other cities. Groceries are expensive in Philadelphia. The city spends more money on groceries than other cities.
They spend an average of $388 a month for one person, which is $47 higher than the national average. However, most of the time, people pay fewer taxes in Philly than in other states. 
In San Diego, a pint costs about $6. A nice dinner costs about $30. San Diegans tend to eat out at restaurants once a week, which makes up almost 50% of their monthly food budget. Small farms mean that there is a lot of fresh local produce available. 
Groceries only cost about 10% more here than in other parts of the country. The San Diego resident spends an average of $291 a month on grocery bills, which is less than what he or she would spend in any other city in California, and less than Philadelphia's average monthly food bill.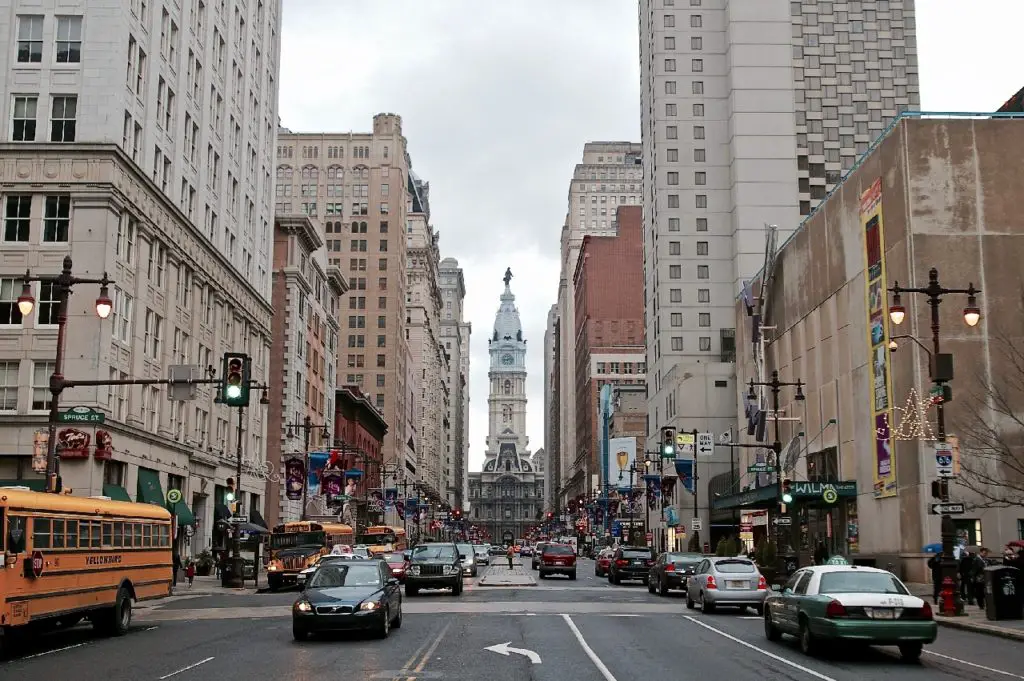 4. Transportation Costs
You can walk around Philadelphia or use public transport easily. This is because it's a dense city with established public transit corridors. In San Diego, you'll probably need a car. It's a more spread-out city with more of a culture of cars than public transit.
Philadelphia has a fairly high Walk Score of 79 out of 100 and is the 4th easiest city in the U.S to get around by walking. Walking is a great way to see the sights of Philadelphia.
A 'commuter pass' costs about $96 per month and works for 240 rides on all types of transportation. SEPTA trains run throughout the city and suburbs.
In San Diego, driving is the most popular way of getting around. Cars are more expensive here than in other places, but parking is cheaper. Most people who live in San Diego drive cars. Parking is free in many areas.
The San Diego Metropolitan Transit System offers cheap rides for people who want to travel around the city. Passes cost less than $100, but this isn't an incentive for someone who already owns a car or lives far away from the city center.
Lifestyle In Philadelphia vs San Diego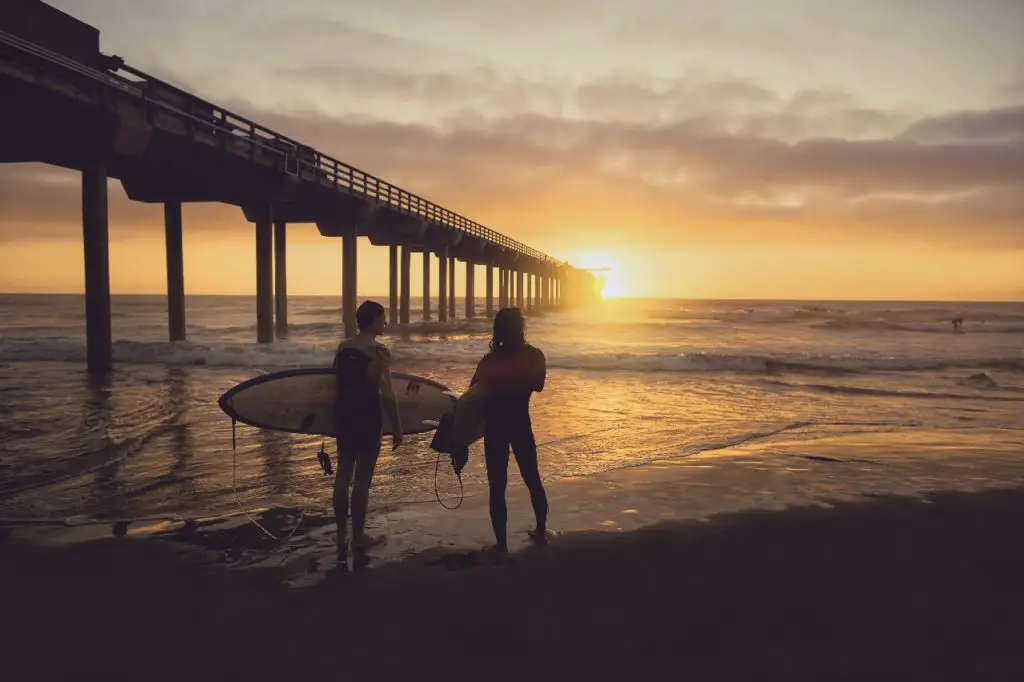 1. Culture
San Diego is more laid-back and beachy, while Philadelphia feels more like a large established city with a working-class urban atmosphere.
Philadelphia is nicknamed "The City of Brotherly love" because of the strong ties between the people living there. The city is full of historic buildings and museums. There is a thriving arts scene and local foods. It's a true big city feel, similar to Chicago or other older, denser, more established east coast cities.
San Diego is nicknamed "America's Finest City". It's a warm, beachside city with great parks and a more laid-back vibe than its big brother vity, LA. There are miles of relaxing beaches and friendly people. San Diego's unique highlights include the San Diego Zoo and Safari park, museums and gardens at the Balboa Park, a bustling craft beer scene, and an annual international comic con.
The people in San Diego are very friendly and the culture is more relaxed than in other cities. San Diego has a large population. It's located near Mexico, so there are lots of Hispanics living here. Lots of people speak Spanish, and you'll see some signs written in both languages. Teaching kids Spanish makes sense since they're surrounded by it every day.
The population of San Diego is zen – Yoga is a way of life, and people have adopted a chilled vibe that is one of the best things about living here and is not seen in other U.S cities.
2. Weather
| | San Diego | Philadelphia |
| --- | --- | --- |
| Mid-Summer Average (F) | 78.5 | 77.6 |
| Mid-Winter Average (F) | 66.2 | 32.3 |
| Annual Precipitation (Inches) | 12.0 | 44.6 |
| Annual Snowfall (Inches) | 0 | 14.2 |
This is where Philadelphia and San Diego differ most. Expect cold winters in Philly with plenty of snowfall, but hot humid summers. It's a city with four seasons. San Diego, on the other hand, is warm and temperate all year round. If you can't stand winter, San Diego is the clear choice.
San Diego is spoiled for some of the best weather in the country. Planning around the weather isn't necessary since there's plenty of sunshine. If you're not a fan of all four seasons, San Diego is the perfect place to live.
The weather in San Diego a little warmer than LA to its north but has a milder summer than Phoenix to San Diego's east because it enjoys the moderating effects of coastal winds.
3. Restaurants
Both cities have great restaurants, but their cuisines do differ a little. San Diego has a strong Mexican and seafood influence in their food culture. Philly is known for more hearty winter foods like cheesesteak, pretzels, and pork sandwiches.
New arrivals to Philadelphia will be spoiled for choice when it comes to dining out. The city's restaurants reflect its unique character. Italian immigrants introduced the world to the famous Philly cheesesteak and the mother of all subs, the hoagie. 
The city's adopted citizens also created some of America's favorite comfort foods, including the cheesesteak and the hoagie.
San Diego's food scene includes many different types of cuisines, but Mexican food is the best. A taco is an everyday meal, and it is also available for breakfast, lunch, or dinner.
4. Entertainment
Philadelphia is more about high culture, arts, and US history (with great historical sights like the liberty bell), while San Diego is more about surfing, relaxing, and enjoying a beverage in the sun.
The nightlife in Philadelphia includes a variety of different places to go out and experience music and entertainment. Many people love to attend concerts at the Wells Fargo Center, Mann Center for the Performing Arts, and the Benjamin Franklin Parkway.
Philly parks also offer a wide range of activities and events during the day and night.
There are many museums and historical attractions in Philly. The most famous ones include the Liberty Bell, the Philadelphia museum of art, the free library of Philadelphia, and the Rodin museum. 
There is a sculpture garden with works by Rodin, including The Thinker. The city is also known for its kid-friendly activities and its first zoo, the fully interactive please touch museum, and the adventure aquarium.
Outdoor activities are a big draw for people moving to San Diego. People love being outdoors and don't want to miss out on the fun. Surfing is a popular activity in San Diego. Yoga culture is huge in San Dieguito. Sign up for a class on the beach and you'll see what all the hype is about. 
San Diego is known as a great place to enjoy culture, arts, and sports. There are lots of things to do in San Diego and it's also a great place to relax. There's always something to do and the city caters to all interests. Great weather is practically guaranteed year-round on the California coast.
There are many parks around San Diego, some of them very famous. San Diego also ranks ninth in the nation for the number of technology patent grants, and they have the best beer craft scene in the U.S!
5. Sports
If you're a huge sports fan, Philadelphia is the clear choice. Unfortunately, San Diego doesn't have the city size to sustain large teams, and in fact, they've lost a few teams to LA throughout the years.
The Chargers relocated from San Diego to LA in 2017 and the Clippers relocated to LA in 1984. Now, San Diego's only major league team is the San Diego Padres who play in major league baseball.
Philadelphia sports fans are known for their loyalty. They support the Eagles, Phillies, Flyers, 76ers, and the Sixers. Every season they cheer on their teams with pride.
Other City Comparisons
Conclusion
Both Philadelphia and San Diego are amazing places to live for different reasons. If you're looking to move to either one, think about your individual needs and preferences. 
San Diego will make a good place for families. The climate is ideal for outdoor activities, and it's a slower pace of life. Plus, there's always something to do or see. However, the housing costs are higher than in Philadelphia. 
If you need seasons in your life, then take into account the fact that San Diego doesn't really get true winters.
We hope our article has helped you weigh up the cost of living and lifestyle differences between Philadelphia and San Diego, so you can choose the best city to set up a home.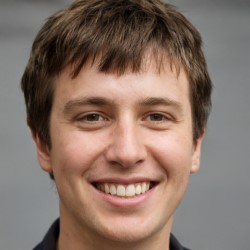 Jason Dempsey is the CEO and Co-Founder of Home City Living. After abandoning the corporate world in order to indulge his wanderlust, Jason founded Home City Living with his partner Rose to create the premier source of travel information and inside local knowledge on the web to help other would-be global explorers and seekers learn to spread their wings and fly.