The Chicago Skyline
The key difference between Chicago and San Diego is the weather. San Diego is comfortable year-round, even in winter. Chicago has very cold and snowy winters.
San Diego also has a reputation for having more of a laid-back beach vibe, while Chicago has the hustle and bustle of a big global city.
Who would like Living in Chicago?
Big City Bill
Chicago is a big, bustling city. Its inner city Loop has high skyscrapers and the vibrant atmosphere you might only find in one other city – New York City. 
Midwest Max
Many people from the midwest love the fact there are four distinct seasons. If you prefer a city with seasons, you'd like Chicago more than San Diego. 
Who would like Living in San Diego?
Surfer Sally
San Diego, perhaps more than any other US city, has a great surf and beach culture. There are plenty of great beaches up and down the coast.
Family Fred
San Diego is a great city for raising a family. The outdoor opportunities are plentiful and it's a smaller, slower-paced alternative to big cities like LA and Chicago. 
This review compares Phoenix and Austin on key considerations for people considering moving to and living in each city. They're summarized below.
Chicago vs San Diego
| | Chicago | San Diego |
| --- | --- | --- |
| Size | 2.7 million people | 1.4 million people |
| Weather | Chicago has Cold Winters | San Diego is Comfortable Year-Round |
| Cost of Living | Medium-High | Medium |
| Culture | Big City Hustle | Laid-Back Lifestyle |
| Traffic and Transit | Good Public Transport | Average |
| Job Prospects and Economy | Good finance sector. | Many military and biotech jobs. |
| Sports Franchises | Good | Poor |
| Education | Poor | Good |
| Crime | High | Medium-Low |
| Politics | Very Liberal | Very Liberal |
See Also: 31 Pros and Cons of Living in San Diego
See Also: 25 Pros and Cons of Living in Chicago
Living in Chicago vs San Diego


The San Diego Skyline
1. Size
Chicago is about twice the size of San Diego, and this is obvious in the atmosphere as you walk around both cities.
San Diego's population is 1.4 million. It's around the same size as San Antonio, Phoenix, and Dallas. Being right next to Los Angeles (with a population of 4 million), San Diego does feel like a smaller city, relatively. The downtown core is also quite small, and the suburbs sprawl north and east.
Chicago's city population is 2.7 million. It's the third biggest city in the United States, behind New York and Los Angeles. One notable feature of Chicago is that it has built up rather than out. There are a lot of high-rise buildings that give the city a 'big city' feel, much like New York.
2. Weather and Climate
This is the biggest difference between the two cities. Chicago gets very cold in winter while San Diego remains temperate year-round.
In Chicago, snow is on the ground between November and April year-round. Expect mid-winter temperatures below zero all day long for several months.
Come summer, Chicago does get quite nice, although humidity can get high as well. Lake Michigan gets popular around July and August for people enjoying the short but comfortable summer.
San Diego's weather is comfortable and mild year-round. The coldest month of the year, January, still averages a high of 66°F, while July averages around 85°F. This small variation in temperature throughout the year is great for people who don't like seasonal fluctuation and want comfort year-round. But on the other hand, the lack of seasonality can be strange for people used to the pleasures of clear defined seasons.
| | Chicago | San Diego |
| --- | --- | --- |
| Avg. Annual Inches of Snow | 36 Inches | 0 Inches |
| Cloudless Sunny Days per Year | 84 | 146 |
| Avg. Jan High (Mid-Winter) | 31°F | 66°F |
| Avg. July High (Mid-Summer) | 85°F | 78°F |
Source: Current Results
3. Cost of Living
San Diego is slightly more affordable than Chicago, but both are similar. Keep in mind that depending the neighborhood where you live, both cities can get very expensive.
Using Numbeo's cost of living comparison chart, we can see that:
Overall, Chicago is more expensive than the above comparison reveals. Chicago's cost of living is under-estimated in the comparison charts because of the high degree of segregation in the city. In other words, if you want to live in a suburb with good nearby schools and low crime rates, expect to pay for it.
Another thing to take into account is that both California and Illinois have relatively tax burdens. They rank 9th and 10th in terms of tax burden in the nation, which pushes up cost of living.
4. Culture
Chicago is a city that's got the hustle and bustle of a cosmopolitan global city, while San Diego is much more laid-back.
San Diego attracts people searching for a warm, laid-back life. Many people head south from LA to get away from the hustle of the nation's 2nd largest city, to live somewhere slightly cheaper, and enjoy the California lifestyle. It's also known for its excellent craft beer culture. With over 150 breweries in San Diego, the city has dubbed itself the Craft Beer Capital of America.
Chicago is known as the capital of the Midwest. It has deep and rich history in everything from food to jazz to sports. It has the big city bustle that you won't experience in San Diego, but it's also not as rude, rushed, or expensive as New York City.
Chicagoans also have their own accent and cultural twirks, like their use of the dibs system to resever parking spots in winter (see Point 5 below), and their own slang.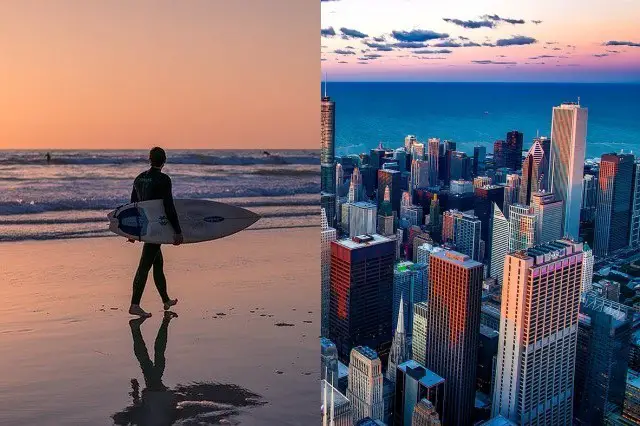 5. Traffic and Transit
Chicago has a much better public transit system, while both cities suffer from peak hour traffic congestion.
Tom Tom's data shows that Chicago and San Diego have similar traffic issues. Chicago ranks as the 20th most congested city in the United States, while San Diego ranks 24th.
However, ask a San Diegan about the traffic congestion and their response is usually: "well, at least it's not Los Angeles". As with everything else, San Diegans compare themselves favorably to their neighbors to the north who deal with worse traffic, crime, and transit.
Chicago beats San Diego for public transit, also. Between the Chicago L (light rail) and the bus network, the Chicago Transit Authority carries 1.6 million people per day, making it the 2nd largest public transit network in North America. San Diego, on the other hand, has an underdeveloped light rail that needs significantly more investment.
One quirk of Chicago, however, is the dibs system. This is a system where, after the first major snowfall of the year, people dig their car out of the parking spot, and claim that spot for the whole winter (often by placing furniture in their parking spot when they're out driving!). People do this because they believe that if they dig out a spot, they deserve to benefit from their hard work.
While the dibs system is technically illegal, it isn't policed. But be quick to find a park close to home during that first snowfall or you might find that you're parking a few block from home for the whole winter!
6. Diversity
Both are minority majority cities, but their makeup is very different. Chicago has a large African American community while San Diego has a large Hispanic community.
The difference in demographics is, primarily, because of San Diego's proximity to Mexico. Latin Americans who migrate to San Diego often choose San Diego because the climate is a lot like home. Now, of course, it's often because they also have family and friends now living in San Diego.
The WalletHub diversity index shows that Chicago is 14th most diverse city in the US and San Diego is 22nd.
Below are the demographic break-downs of each city:
| | Chicago | San Diego |
| --- | --- | --- |
| Non-Hispanic Whites | 33.5% | 42.8% |
| Hispanics and Latinos | 17.3% | 30.3% |
| Blacks and African Americans | 29.0% | 6.4% |
| Asians | 7.0% | 16.7% |
Source: US Census
7. Outdoor Access
San Diego wins this one purely because the weather is better for outdoor activities throughout the year.
The beaches up and down the Southern California coast are amazing for outdoor activities. La Jolla Cove Beach is a great swimming beach with a family atmosphere. The best beaches for fishing in San Diego are Pacific Beach ('PB') where there's a great pier for fishing and Ocean Beach City Beach which offers license-free fishing.
One area where Chicago wins is access to public parks. The Trust for Public Land gives Chicago a parkscore rating of 5th in the USA, while San Diego ranks 27th. This rating shows Chicago has public parks within 10 minutes walk of nearly every resident, and public park amenities are high-quality.
Chicago also sits on the shores of Lake Michigan where there are plenty of summer recreation opportunities, especially up and down Lakeshore Drive. 
8. Job Prospects
Chicago is a larger city and state capital, meaning there are more job prospects. However, the big military presence in San Diego means there's always jobs there, too.
Overall, both Chicago and San Diego have established and mature economies. The economic diversity in both city means there are jobs in nearly every industry.
However, San Diego does have strengths in military and biotechnology, while Chicago has a good financial sector. Chicago also has two world-class universities (University of Chicago and Northwestern).
9. Crime
Chicago's crime rates are very bad, while San Diego's are really quite good for a decent sized city in California.
According to Area Vibes, Chicago's crime rate is 58% above the national average, while San Diego's is 10% below the national average.
For a major city in California (a state known for its crime issues), San Diego is impressively safe. This makes it a more appealing prospect as a place to raise a family.
Chicago, on the other hand, has very serious gang related problems. This is reflected in the violent crime rate that is 149% above the national average (compare that to San Diego, with violent crime 5% below average).
Nevertheless, there are certainly safer areas in Chicago, such as Edison Park, Forest Glen, and Norwood Park. Expect to pay a premium to live in these safer neighborhoods.
10. Schools Education
San Diego performs better than Chicago on nearly all education metrics, but it's nevertheless close to the national average.
Chicago's standardized test scores are 52% below the national average, giving it a failing grade according to the Area Vibes data. San Diego does also sit below the national average, but it's close to that average line.
One area where Chciago and San Diego both perform poorly is the student to teacher ratio. The national average is 16:1, while San Diego has larger classes at 19:1 and Chicago's are 21:1.
The higher university completion rates in Chicago and San Diego may be due to the fact both cities attract university students at higher rates to attend their highly rated universities.
If you plan to move to San Diego and want to send your kids to a good school, consider the neighborhoods around Sorrento Valley (where there are also good biotech jobs available).
| | Chicago | San Diego |
| --- | --- | --- |
| Standardized Test Scores | 52% below average | 7% below average |
| Student to Teacher Ratio | 21:1 | 19:1 |
| High School Completion | 3% below average | 3% above average |
| University Completion | 21% above average | 44% above average |
Source: Area Vibes
11. Sports
Chicago has much better major league sports teams.
Unfortunately, San Diego has lots its major league teams to Los Angeles. It seems to make more economic sense for sporting franchises to set up in LA than San Diego. The Chargers moved from San Diego to LA in 2017 and the Clippers moved to LA in 1984.
Chicago, on the other hand, has a long and rich sporting history. The Bears (Football), White Sox and Cubs (Baseball), Blackhawks (Ice Hockey), and Bulls (Basketball) are all based in Chicago. And everyone should experience a Cubs game at Wrigley Field once in their life!
12. Politics
Both cities are very liberal, and they're both in liberal states as well.
According to this data, Chicago is more liberal than San Diego. Surprisingly, Chicago is more liberal than Portland, OR! San Diego is a little more to the center, but still solidly liberal.
Both cities also have welcoming stances toward immigrants and the LGBTI community. The gay neighborhood in San Diego is Hillcrest, while Boystown Chicago was the first officially acknowledged gay village in the whole of the USA. 
One other political issue that's worth looking at is political corruption. Chicago is a very corrupt city, with politicians being arrested regularly by the FBI for a range of political indiscretions.
Related City Comparisons
Visiting Chicago vs San Diego
If I were to visit one of these cities, it would be Chicago. However, they're both great cities to check out.
One consideration I would have would be the time of year. I would want to go to Chicago during a festival, like Lolapalooza, or another major event. St Patrick's day (with the greening of the river) is always fun, and so too are the snowy Christkindlmarkets.
In San Diego, I'd want to go in summer when I could enjoy the beaches, the zoo, the craft beer markets, and everything Balboa park has to offer.
Overall, Chicago has a lot more to see and richer history to explore. Don't miss the art and architecture around the city, including the Chciago Bean, pictured below.
Conclusion
Chicago and San Diego are great cities in their own right, but they're vastly different. People who love the big city bustle would prefer Chicago, while people looking for the California coastal lifestyle would prefer San Diego.
Something else to consider is the weather. If you can't stand the cold, then Chicago isn't for you. Similarly, if you need seasons in your life, San Diego won't make you happy!
Overall, I think San Diego would be better for raising a family while Chicago's a great bustling city for people seeking to go where the action is at.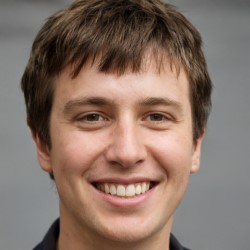 Jason Dempsey is the CEO and Co-Founder of Home City Living. After abandoning the corporate world in order to indulge his wanderlust, Jason founded Home City Living with his partner Rose to create the premier source of travel information and inside local knowledge on the web to help other would-be global explorers and seekers learn to spread their wings and fly.