The key difference between Chicago and Austin is the weather. Chicago is in the north where winters get very cold, while Austin is known for its milder winters and hot summers.
Despite their differences, the cities do have some similarities. They're both relatively liberal and have good live music scenes.
Who Would Like Living in Austin?
Hipster Hannah
Known as a hipster haven in the otherwise conservative Texas, Austin's unofficial motto is "Keep Austin Weird".
Cheap Charlie
Austin is one of the most affordable cities in the nation. Housing is relatively affordable and it's situated in a state without state income taxes.
Who Would Like Living in Chicago?
Big City Brenda
Chicago has a big city vibe. It's the home of the skyscraper, and it's often seen as a somewhat more affordable alternative to New York City.
Foodie Felicity
Chicago is famous for its food culture. They're the home of the deep pan pizza, but they also have their fair share of excellent downtown restaurants.
This review compares Phoenix and Austin on key considerations for people considering moving to and living in each city. These include:
Culture: Austin embraces live music. Chicago's got a cosmopolitan city atmosphere.
Cost of Living: Austin is more affordable than Chicago.
Weather and Climate: Austin gets very hot, Chicago gets very cold.
Traffic and Transit: Chicago has decent public transit. Austin has bad traffic.
Sports Franchises: Chicago has many more major league teams.
Outdoor Access: Both cities embrace their lakes in summer, with Chicago having great access to Lake Michigan.
Job Prospects: Austin has a good tech area while Chicago is a financial hub.
Education: Austin has very good student-teacher ratios, Chicago's test scores are well below average.
Crime:

Chicago is known for its big crime problems.
See Also: 31 Pros and Cons of Living in Chicago
See Also: 31 Pros and Cons of Living in Austin
Living in Austin vs Phoenix


Austin, Texas (right).
Living in Chicago vs Austin
1. Culture
Chicago has a cosmopolitan culture and is famed for its restaurants. Austin's culture is more laid-back and hipster.
Chicago's culture has been built-up by its immigrant history. Italian and Irish immigration in the 19th Century dominated the city's culture. The Italians brought with them their delicious foods, which they've since altered for the unique American consumer. When you're in Chicago, you've got to try out a deep pan pizza!
Chicago is a bustling cosmopolitan city that loves its sports and food. It's a dense, vibrant city that has a similar big city atmosphere to New York. The culture also has some unique quirks, like the 'dibs system' where people snag a parking spot at the first snowfall and keep it for the whole winter!
Austin's culture is more laid-back. It's warmer year-round, full of hipsters and musicians, and loves its craft beer. It doesn't have the big city vibe of Chicago, but it's a big enough city to have everything you want.
Many people flock to Austin to enjoy the low cost of living where they can raise families and enjoy a comfortable and sociable way of life. It's got an official motto: "The live music capital of the world" and an unofficial motto: "Keep Austin weird."
2. Diversity
The Wallet Hub diversity index shows Austin as the 74th most diverse city in the nation, while Chicago rates 41st. Chicago is well-known for being very segregated which causes inequality problems.
Both cities are majority minority, although Chicago has a much higher Black population while Austin has a higher proportion of people who identify as Hispanic.
One issue that you may come across if you move to Chicago is the significant segregation in the city. This is a historical and systemic issue that goes back to intentional segregation in the early 20th Century.
In fact, this report shows Chicago as the forth most segregated city in the United States.
You will notice, for example, that suburbs in Chicago are very segregated. This has led to significant differences in cost of housing and accessibility to public services.
| | Chicago | Austin |
| --- | --- | --- |
| Whites (Non-Hispanic) | 33.5% | 48.8% |
| Hispanics | 17.3% | 31% |
| Blacks | 29.0% | 8.1% |
| Asians | 7.0% | 7.6% |
3. Outdoor Access
Chicago has excellent access to Lake Michigan and several recreational spots up and down the lakeside. Austinites rely on three local small lakes for recreation.
Austin is known for being an active city. People like to get out on warm days to enjoy the riverside parks (particularly around Zilker Park and the Barton Springs Pools). The nearby lakes – Lake Austin, Lady Bird Lake, and Lake Travis – are also popular recreational spots.
Austin's lakes allow for fishing, boating, kayaking, and swimming. Lady Bird Lake is best for paddleboarding (my personal favorite!) because it doesn't have motorized boats, giving is a calmer feel.
Chicago's top recreational spot is Lakeshore Drive, along which you will find 15 miles of bike routes, parks and Lake Michigan beaches.
For weekend road trip options, Chicago offers access to Indiana Dunes as well as Wisconsin and Michigan. Austin has some great daytrip routes, such as the famous Texas Barbecue Trail.
Lastly, it's notable that Chicago is ranked as having the 5th best city greenspaces nationwide, while Austin languishes in 45th place.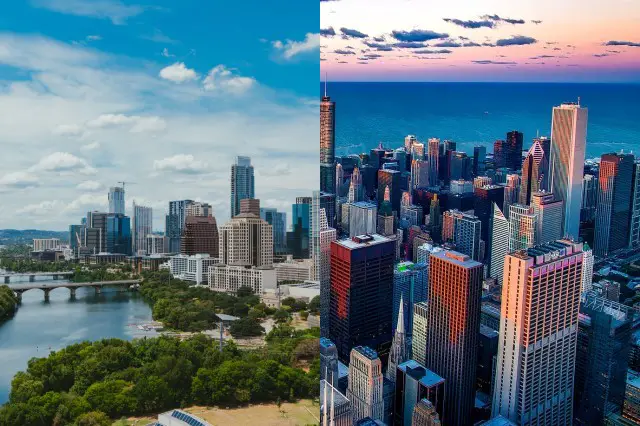 Austin skyline (left) and Chicago skyline (right).
4. Cost of Living
Austin is known to be one of the most affordable cities in the nation and is noticeably more affordable than Chicago.
Using Numbeo's cost of living comparison chart, we can see that:
Chicago is the 25th most expensive city in North America
Austin is the 110th most expensive city in North America
Chicago's cost of living is complicated by the fact there is significant cost of living variability within the city itself due to segregation. Low cost of living in poorer neighborhoods offsets the higher cost of living in wealthier and more desirable locations. So, for people considering moving to Chicago, it's worth noting that your cost of living may be very high if you plan to move to a more desirable neighborhood.
Nevertheless, Chicago is known to be a cheaper alternative to New York City, so people who want the big city atmosphere without the NYC prices, Chicago can be a good option.
Austin, on the other hand, is known to be more affordable and suburban housing prices are within reach for many in the middle-class.
It's also worth noting that tax burdens are higher in Illinois than Texas. In fact, Illinois is one of the most highly-taxed states in the nation. Texans, on the other hand, have several tax breaks, such as a state constitution that bans state income tax. This puts downward pressure on the cost of living in Austin.
5. Climate and Weather
Chicago has long, cold winters. Austin's winters are mild, although you can get a dusting of snow in January. In summer, Austin gets very hot (sometimes uncomfortably so) while Chicago's summers are shorter and milder.
The winters in the Midwest can be brutal. And Chicago cops a lot of it. The winters are snowy and days are sub-zero for several months in a row. Chicago's summers are nice and mild, though. Despite being short, the summer weather on southern Lake Michigan can be lovely.
Austin is a great place for people who want to escape the brutal cold. Even winters are pretty mild, with January days in the 60s not uncommon.
But Austinites also have to deal with the long, hot summers. The dog days of summer can push you indoors (you'll want air conditioning!), with several days per year pushing above 100. Sometimes the heat is dry, other times there is a little humidity. This often literally depends on the direction the wind is blowing!
| | Chicago | Austin |
| --- | --- | --- |
| Avg. Inches of Snow | 36 Inches | 0.3 Inches |
| Avg. July High (Mid-Summer) | 85 °F | 96 °F |
| Avg. Jan High (Mid-Winter) | 31 °F | 60 °F |
Source: Current Results
6. Traffic and Transit
Chicago and Austin both struggle with heavy traffic. Austin's traffic is statistically much worse, potentially due to their poor public transit capacity. Chicago's public transit is known to be above average.
Tom Tom's data shows that Austin has the 13th worst traffic in the nation, while Chicago ranks 20th. This is despite the fact Chicago is a much larger city that carries hundreds of thousands of people into and out of its central business district, The Loop, each day.
There are two reasons Chicago handles traffic better than Austin.
First, Chicago is built on one of the most well-structured grid systems in the nation. This both makes it easier to navigate the city and filters people out of the city more easily, with major crossroads every 8 blocks.
Second, Chicago has a superior public transit system. This public transit system transports over 1.6 million passengers per day, with the majority taking buses, but over 750,000 also taking the Chicago L train line.
However, beware the Dibs System!
A Chicago tradition, this involves people digging out and claiming their parking spot after the first major snowfall of the year.
If you dig out a parking spot, you can place a marker such as a chair or table in that spot (when you're out and about) to reserve it for when you get back.
It's officially illegal, but not policed.
This means that, on the first snow day of the year, you need to find your parking spot close to your home and claim it, or else you'll be stuck without a convenient parking lot from November to April.
7. Job Prospects
Both Austin and Chicago have decent job markets and diverse established economies.
As the third largest city in the United States, Chicago has a strong and diverse economy. There are 30 Fortune 500 companies with headquarters in the city, with strong legal and financial industries. Boeing is also headquartered in Chicago.
But, that doesn't mean getting a job is necessarily easy. As the Chicago Tribune puts it, there is "lots of hiring" but also "plenty of competition".
Austin, on the other hand, has just 2 Fortune 500 companies headquartered there, but there is still a presence of major companies like Apple, Amazon, and AT&T.
But, Austin does have a strong tech sector in the west side, known as the "Silicon Hills". Many of these tech companies and startups are still rapidly growing, leaving open the opportunity for many jobs in tech.
8. Crime
Chicago is known for its serious and ongoing crime issues, including gang problems. Austin performs below the national average on crime as well, but nowhere near to the same extent.
According to Area Vibes, Austin's crime rates are 65% above the national average. Property crime is the key problem in Austin which brings down their overall score.
Chicago, on the other hand, has serious violent crime problems. Area Vibes rates their violent crime as 149% above the national average.
Clearly, Austin is somewhat safer.
Nevertheless, both cities have lower and higher crime neighborhoods, so if you move to either city, it's best to seek out an area with a good reputation. Some safer neighborhoods in Chicago include Edison Park, Forest Glen, Norwood Park. In Austin, Rollingwood (just west of Zilker Park) is known as a safe neighborhood.
9. Schools and Education
Chicago's schools are well below the national average, while Austin's schools perform very well. Both cities have an above average percentage of people with Bachelor's degrees, reflecting the fact they're hubs for professional jobs.
According to Area Vibes, Austin's schools perform very well. Standardized test schools are well above the national average and their student-teacher ratios are impressively low.
Chicago is a different story. Student-teacher ratios are poor and test scores linger below the national average.
Both cities have world-class universities, although Chicago has an advantage here with the University of Chicago which rates as an extremely good private university.
| | Chicago | Austin |
| --- | --- | --- |
| Standardized Test Scores | 46% above average | 52% below average |
| Student-Teacher Ratio | 21:1 | 14:1 |
| People with Bachelor Degrees | 57% above average | 21% above average |
Source: Area Vibes
10. Sports
Chicago has a much wider variety of major league teams than Austin.
Austin is squeezed between Dallas and Houston, so it often gets overlooked for major league teams. It does have Austin FC, their major league soccer team. However, to watch football, basketball or baseball games (other than UT-Austin games), you'd want to make the drive to either Dallas or Houston.
Chicago, on the other hand, is famed for its world-class teams, like the Chicago Bulls, White Sox, and Cubs. Chicagoans are spoiled for choice when it comes to sports, and they've also got hundreds of great sports bars to go to watch any major games.
11. Politics
Both Austin and Chicago are very liberal cities. However, it's notable that Illinois is a liberal state whereas Texas is a conservative state.
People living in Austin may be within their liberal bubble within the city, but they're still exposed to a conservative state government. Depending on your politics, this may be good or bad!
Chicago, on the other hand, is in a liberal city within a liberal state. One flow-on effect is that there is higher taxation in Chicago than Austin.
There's also political corruption in Chicago which hinders the city's development.
Visiting Chicago vs Austin
Chicago has much more history and a more cosmopolitan atmosphere than Austin, which is great for international travelers. Austin is a good option for people who love music, especially during the SXSW and ACL festivals.
If I were to choose one city to visit, it would be Chicago. It has some excellent walks and interactive museums exploring Chicago's history. You can also go to the home of the deep pan pizza, check out the Cloud Gate (aka the Chicago Bean) and Millennium Park, and walk the Magnificent Mile.

Chicago's Famous 'Bean'
Chicago is also incredibly fun during ball games, snowy Christmas markets, the lights festivals, and of course St Patrick's day when they dye the river green.
Austin, on the other hand, is more focused on live music, which you can catch any night of the week.
But, the best time of year to head to Austin is during Austin City Limits of South by Southwest (SXSW), two large festivals that celebrate the best of music (and, in the case of SXSW, film, tech and video games as well).
Overall, I'd much sooner visit Chicago than Austin if I had to choose between the two.
Related City Comparisons
Conclusion
Austin and Chicago are both great American cities. Chicago is a city of history that has its own culture and quirks. From being the home of the first skyscraper to the story of American immigration, Chicago is a place where you can get lost in the big city vibe.
Austin is a sleepier city but is still a fun and progressive city that's small enough for people to really feel at home. It's a city where the American dream of owning your own house, getting a good job, and raising kids is still achievable for many in the middle-class.
Due to the big climate differences between the two cities, this might be the main differentiating factor. Many people would find the cold snowy winters too much of a turn-off for Chicago, while others might love the romance of living in a big snowy American city.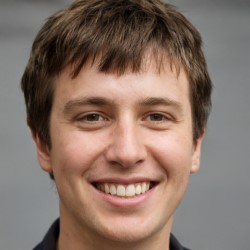 Jason Dempsey is the CEO and Co-Founder of Home City Living. After abandoning the corporate world in order to indulge his wanderlust, Jason founded Home City Living with his partner Rose to create the premier source of travel information and inside local knowledge on the web to help other would-be global explorers and seekers learn to spread their wings and fly.