The Chicago Skyline
The key difference between Chicago and Phoenix is the weather. They're almost exact opposites. Phoenix has very hot summers and comfortable winters while Chicago has long, cold winters and mild summers.
Chicago is also much bigger than Phoenix. The Population of Chicago is 2.7 million while the population of Phoenix is 1.6 million. 
The cities also differ significantly in their cultures. Chicago is a large and quirky city with a deep immigrant history while Phoenix is often described as a boring city full of retirees!
Who Might Enjoy Living in Chicago?
Big City Ben
Chicago has a big city feel. It's the third biggest city in America and has everything you would want from a big global city.
Sporty Samantha
Chicago's sporting franchises have a long and rich history. The Cubs, Bulls, and White Sox are all based in Chicago.
Who Might Enjoy Living in Phoenix?
Cost Conscious Christina
Phoenix has a lower cost of living than Chicago. Arizona's lower tax rate and more room for expanding the city outwards puts downward pressure on prices.
Retired Ron
Phoenix is a popular city for retirees who want to escape the cold winter weather. In fact, many retired 'snowbirds' head to Phoenix in winter where the weather is very nice.
This review compares Phoenix and Austin on key considerations for people considering moving to and living in each city. These include:
Culture: Chicago is a buzzing city while Phoenix is sleepy.
Cost of Living: Phoenix is cheaper.
Weather and Climate: Phoenix is hot, Chicago is cold.
Traffic and Transit: Phoenix has less traffic jams. Chicago has better public transit.
Sports Franchises: Chicago has a richer sporting history.
Outdoor Access: This one's a tie. Both have pros and cons.
Job Prospects: Chicago has a more robust economy.
Education: Both perform very poorly on education metrics.
Crime:

Chicago has much worse crime problems.
See Also: 20 Pros and Cons of Living in Phoenix
See Also: 31 Pros and Cons of Living in Chicago
Living in Chicago vs Phoenix


Downtown Scottsdale in Greater Phoenix
1. Culture
Chicago's buzzing cosmopolitan atmosphere is a strong contrast to Phoenix's sleepy city vibe.
Chicago is a busy, bustling city. It's a great place for feeling like you're in the middle of all the action. Working professionals who love the feeling of working in the middle of a big city would enjoy getting a job in The Loop (the city's central business district).
For recreation, Chicagoans love their local major league teams, and there are ample world-class restaurants.
Chicago also enjoy some great local traditions, from the greening of the river on St Patrick's day to the very cool Christmas markets in the snow.
Phoenix, on the other hand, is a newer and sleepier city.
It's known for its strip malls and urban sprawl. Many people from Phoenix enjoy the spacious city and more individualistic mindset in Arizona. But it also doesn't have the same cosmopolitan buzz of Chicago.
However, many wealthy retirees do enjoy Phoenix. There are multiple 55+ communities, ample golf courses, and a wide range of services available to retirees.
2. Diversity
Both cities are diverse, but Chicago has some serious problems with segregation.
Both Phoenix and Chicago are diverse cities, but both also have issues with segregation. According to this data, Chicago is the 5th most segregated city whereas Phoenix is 39th. Nevertheless, both cities are rated as 'Highly Segregated'.
Demographics in Phoenix vs Chicago
| | Phoenix | Chicago |
| --- | --- | --- |
| Non-Hispanic Whites | 42.5% | 33.5% |
| Hispanics | 42.6% | 17.3% |
| Blacks | 7.1% | 29.0% |
| Asians | 3.8% | 7.0% |
3. Outdoor Access
Chicagoans can enjoy great city parks and access to Lake Michigan. If you're in Phoenix, there are nearby hiking options and, of course, golf courses.
According to the Trust for Public Land, Chicago provides excellent access to public parks. It ranks 5th in the nation for its greenspaces, whereas Phoenix ranks 82nd. Only 22 out of 100 people from Phoenix live within a 10-minute walk from a nearby park.
Chicago also has the advantage of being situated on the edge of Lake Michigan. The beaches and bike routes down Lakeshore Drive are popular in summer, and so are daytrips further around the lakeside.
Phoenix does have some great hiking, though. Head north to Sedona (a 2 hour drive) for some excellent and unique hiking opportunities. And of course, if you like golf, you will be spoilt for choice.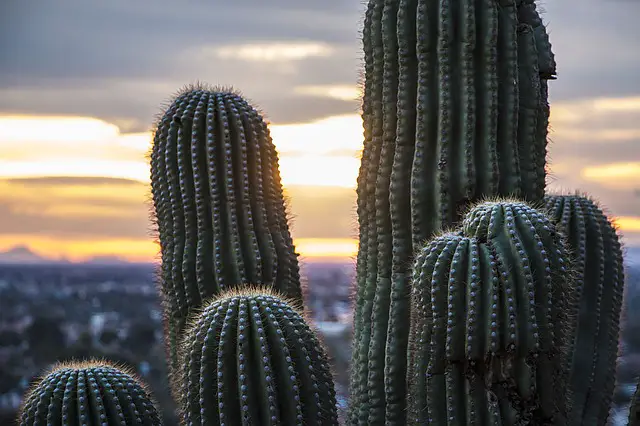 The landscape around Phoenix is known for its Cacti
4. Cost of Living
Phoenix is much more affordable than Chicago.
Using Numbeo's cost of living comparison chart, we can see that:
Chicago is the 24th most expensive city in the Americas.
Phoenix ranks 78th.
It's notable that, while Chicago ranks 24th in cost of living, the city's crime issues means that this data is skewed. Some neighborhoods in Chicago are very affordable because they are considered to be unsafe, while others are very expensive because they're considered safe.
So, Chicago can be a very expensive city to live in.
Phoenix, on the other hand, is impressively affordable compared to other major cities. It is the 5th largest city in the United States and yet there are 77 cities that are more expensive than it.
Phoenix is a city that is built on spread-out urban sprawl. This keeps housing prices down compared to Chicago.
The tax burden in Illinois, where Chicago is based, is also much higher. Illinois is the 9th most taxed city in the United States, while Arizona's tax burden is 30th in the nation.
5. Climate and Weather
Chicago gets very cold in its long snowy winters. Phoenix gets very hot in its long sunny summers.
If you can't stand snow all winter, or sub-zero temperatures for several months, you might want to avoid Chicago. Its winters can be brutal. Snow lies on the ground from November to April every year.
Some people do love the snowy winters in Chicago, though. The white Christmases and German style Christmas markets can be very fun.
Chicago summers are short but very comfortable. Warm July days can be spent by Lake Michigan or in the ample public parks.
Phoenix is almost the exact opposite. Summer can be too hot (there are regularly more than 100 days over 100 degrees in a year). In fact, peak tourism season in Phoenix is winter, and many Phoenix locals head to San Diego to cool off in summer (they're derogatorily known as 'Zonies' in San Diego).
Winter in Phoenix is very pleasant and a great season for golfing and hiking. Snowbirds will arrive in winter to escape the cold up north.
Lastly, Phoenix does have occasional monsoons in the summer, which bring dust storms, rain, and even humidity.
Weather in Phoenix vs Chicago
| | Phoenix | Chicago |
| --- | --- | --- |
| Average Annual Snowfall | 0 Inches | 36 Inches |
| Clear Days | 211 | 84 |
| Average January High (Winter) | 106 °F | 31 °F |
| Average July High (Summer) | 68 °F | 85 °F |
Source: Current Results
6. Traffic and Transit
Chicago has worse traffic than Phoenix. But, Chicago also has better public transport.
According to data provided by Tom Tom, Chicago is the 22nd most congested city for traffic, while Phoenix ranks 42nd.
Phoenix is well-known for having far less traffic congestion than cities of a similar size. The city has been designed to funnel traffic out of the downtown core as smoothly as possible. So, while you may get stuck in traffic jams in peak hour, you might want to thank your lucky stars you're not in California!
Chicagoans complain about the traffic congestion, and it's statistically worse than that of Phoenix, but the well-designed grid system does help to keep the congestion a little better than cities of a similar size, like LA and New York.
While Chicago's traffic can get bad, the public transit is quite good. The train (Chicago El) and bus network combined carry 1.6 million passengers a day. It is the nation's 2nd largest public transit system, it ranks well for accessibility, and rides are relatively cheap.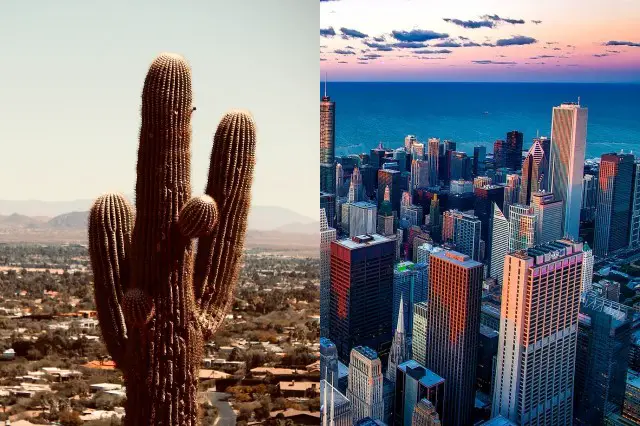 7. Job Prospects
Both cities have estabilshed economies, although Phoenix tends to get hit very hard during economic downtimes.
Chicago has a mature and diverse economy. Its business district, known as The Loop, is a financial and legal hub with many fortune 500 companies headquartered there, including Boeing!
But, that doesn't mean getting a job is necessarily easy. As the Chicago Tribune puts it, there is "lots of hiring" but also "plenty of competition".
Phoenix also has an established economy, but its reliance on the construction industry means it can get hit hard when the economy turns bad and construction halts. Nevertheless, as a major city, it has many jobs in healthcare and higher education.
8. Crime
Both Phoenix and Chicago have crime problems and rate worse than the national average on major crime metrics. Chicago's crime issues are worse than those of Phoenix. Choose a low-crime neighborhood when moving to either city.
According to Area Vibes, Chicago has very concerning violent crime problems related to the gangs in the city. Its violent crime metric is 149% above the national average. Phoenix also performs poorly, with its violent crime rate 84% above the national average.
Property crime is also below the national average in both cities. Pheonix's is 57% above the national average, while Chicago's is 41% above the national average.
As with all cities, there are safer neighborhoods for those who can afford it. Safe Phoenix suburbs include Jen Tilly Terrace, Peterson Park, Lindon Park, and Sunset. In Chicago, look for housing in Edison Park, Forest Glen, and Norwood Park. Admittedly, you may be paying for access to these safer areas.
9. Schools and Education
Both Chicago and Phoenix perform poorly on nearly every education metric. Chicago performs worse than Phoenix on standardized test scores.
On average, Phoenix and Chicago have poor high school completion rate and test scores. One possible explanation for this is that both cities have lower student to teacher ratios than the national average.
The one metric that Chicago does best on is university completion. It has 21% more people with bachelors degrees than the national average. This may, however, be because the city's business district attracts highly-education professionals, and the University of Chicago attracts a lot of university students into the city. 
Education in Phoenix vs Chicago
| | Phoenix | Chicago |
| --- | --- | --- |
| Standardized Test Scores | 31% below average | 52% below average |
| Student to Teacher Ratio | 19:1 | 21:1 |
| High School Completion | 7% below average | 3% below average |
| University Completion | 10% below average | 21% above average |
Source: Area Vibes
10. Sports
Both Phoenix and Chicago have multiple major league sporting teams. But, Chicago's rich sporting history is hard to compete with.
Phoenix has teams in bearly every major sport, including the Phoenix Suns (NBA), Cardinals (NFL), Coyotes (NHL), Diamondbacks (MLB), and Phoenix Mercury (WNBA). Similarly, Chicago has the Cubs and White Sox (MLB), the world-famous Bulls (NBA), Blackhawks (NNFL), and the Bears (NFL).
In terms of sporting history, Chicago clearly wins, with their long baseball history as well as being home to the amazing Bulls team with Michael Jordan.
11. Politics
Both Chicago and Phoenix usually vote liberal, but Chicago is much more liberal than Phoenix.
Chicago is situated in Illinois, a Democratic stronghold. The city of Chicago itself is also very democratic. However, the city also suffers from ongoing political corruption.
Phoenix is situated in Arizona, a state that is getting more liberal over time, but historically is conservative. While Phoenix itself tends to vote Democratic, it's notable that there's a strong belief in independence and personal responsibility in Phoenix, meaning it's a pretty centrist city.
Visiting Chicago vs Phoenix
If you can only visit one of these cities, Chicago is clearly the best choice. It has a great cosmopolitan atmosphere and rich history.
Visitors to Chicago should check out the museums commemorating and exploring Chicago's rich immigrant history as well as its contemporary art. But it's also worth looking at Chicago's unique architecture and the famous Chicago bean. It's also fun to time your visit around St Patrick's day celebrations of the romantic  Christkindlmarket Christmas markets.
You can also go to the home of the deep pan pizza, check out the Cloud Gate (aka the Chicago Bean) and Millennium Park, and walk the Magnificent Mile.
Phoenix is a popular place to head to escape the cold of winter. Golfers would also love to head south to Phoenix to enjoy some of its over 185 world-class golf courses.

Chicago's Famous 'Bean'
Related City Comparisons
Conclusion
Chicago and Phoenix are very different cities. Chicago is a much bigger cosmopolitan city. Its central business district, The Loop, is full of inspiring skyscrapers and beautiful architecture. Meanwhile, Phoenix feels like a sleepier city with sprawling suburbs and strip malls.
But the other main differentiating factor is the weather. Chicago gets very cold in winter while Phoenix has very mild and comfortable winters. In fact, people flock to Phoenix in winter to play golf! But, then again, Phoenix summers can get uncomfortably hot.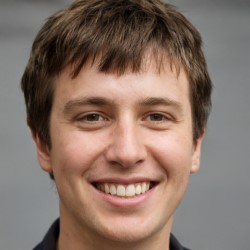 Jason Dempsey is the CEO and Co-Founder of Home City Living. After abandoning the corporate world in order to indulge his wanderlust, Jason founded Home City Living with his partner Rose to create the premier source of travel information and inside local knowledge on the web to help other would-be global explorers and seekers learn to spread their wings and fly.