The Chicago Skyline
Los Angeles and Chicago are two of the largest cities in the United States. Los Angeles is the 2nd biggest city and Chicago is the 3rd biggest.
The main difference between Chicago and Los Angeles is the weather. Chicago gets very cold in the winter and is covered in snow. Los Angeles has mild and comfortable weather, even in winter.
Despite their differences, both are large, diverse and vibrant immigrant cities with strong economies.
Who Might Enjoy Living in Los Angeles?
Summer Sally
The year-round lovely weather in Los Angeles is great for people who can't stand the cold.
Hollywood Hannah
Los Angeles is a glamorous city. People flock to LA to enjoy the proximity to the rich and famous.
Who Might Enjoy Living in Chicago?
Midwest Mark
Chicago's winters aren't for everyone, but many Chicagoans love the cozy snowfall outdoors and the romantic Christmas markets.
Foodie Felicity
Chicago is known for its great food. Its rich Italian background gave us deep dish pizza and Chicago-style hotdogs.
This review compares Phoenix and Austin on key considerations for people considering moving to and living in each city. These include:
Culture: Los Angeles is all about glamor while Chicago has the midwestern charm.
Cost of Living: Both are expensive, but Chicago is a bit more affordable.
Weather and Climate: Los Angeles is comfortable year-round while Chicago has freezing winters.
Traffic and Transit: Chicago It has better public transit and less traffic jams.
Sports Franchises: Both have amazing sporting teams with rich histories.
Outdoor Access: Los Angeles has the ocean, Chicago has Lake Michigan.
Job Prospects: Both are mature and diverse economies.
Education: Both perform poorly on most education metrics, but have world-class universities.
Crime: Both perform poorly on crime metrics.
See Also: 20 Pros and Cons of Living in Los Angeles
See Also: 31 Pros and Cons of Living in Chicago
Living in Los Angeles vs Chicago


Los Angeles
1. Culture
Los Angeles is a glamorous city which is often accused of being vain. Chicago is often described as a mix of bustling New York City and Midwestern manners.
Being the home of Hollywood, LA has long been known as the home of the glamorous, rich, and famous. Some people might call it vein, and as a city with one of the highest amounts of plastic surgeons per thousand residents, there's a grain of truth here!
But Angelinos also like to think of themselves as more laid-back, flamboyant, and creative than their east coast counterparts. Head to Santa Monica Pier and you'll see that flamboyance on display. You'll see people cruising by the sandy beaches on rollerblades, painting, and lying in the sun.
The year-round sun-loving characters of LA wouldn't fit into Chicago, where the weather forces people into pubs and restaurants to enjoy their evenings. And of course, there's a great food and restaurant culture in Chicago!
Besides food, Chicagoans love their sports and music. It's the home of Jazz and, of course, the world-famous Lolapalooza music festival. Before Christmas, you can also rug up, head outdoors, and enjoy the romantic light shows and Christmas markets.   
2. Diversity
Both LA and Chicago are very diverse cities. They're two proud immigrant cities that built the nation.
But, Los Angeles has more of a Latin influence (29.4% hispanic) and Chicago has its roots in Italian, African American (29%) and Irish ancestry.
WalletHub's diversity index places LA as the 23rd most diverse city in the nation, with Chicago ranking 41st. One thing to note about both cities is that they suffer from high amounts of segregation. Chicago is the 5th most segregated city in the nation and Los Angeles is 24th. 
| | Los Angeles | Chicago |
| --- | --- | --- |
| Non-Hispanic White | 29.4% | 33.5% |
| Hispanic | 47.5% | 17.3% |
| Black and African American | 9.8% | 29.0% |
| Asian | 10.7% | 7.0% |
3. Outdoor Access
Los Angeles probably wins the outdoor access comparison, but only because it has decent weather for longer in the year. Chicago's summers are comfortable and enjoyable on Lake Michigan.
Angelinos can enjoy comfortable outdoors weather year-round. Unlike warmer inland cities like Phoenix, LA doesn't get too hot in summer. But winter is also very mild. So, you can enjoy the outdoors nearly all year round.
Los Angeles is also on the West Coast with many excellent beaches within a day's drive. There are gorgeous beaches along the coast all the way down to San Diego. Surfers can make the most of the excellent coastal conditions.
There are also several nearby ski resorts that you can reach from Los Angeles within 2 hours, including Bear Mountain, Snow Summit, and Mountain High.
Chicagoans can enjoy the beautiful Lake Michigan in summer. Lakeshore Drive offers 15 miles of beaches, bike routes, and parks for locals to enjoy. You can also head further around the lake to more excellent weekend getaway locations.
But unfortunately, summer is not too long in Chicago, and freezing winter conditions settle-in between November and April.
However, Chicago is rated more highly by the Trust for Public Land (TPL) for its city parks.
According to TPL, Chicago has the 5th best parks in the nation, a ranking measured on metrics like accessibility, equal access to parks, and public services within parks.
By contrast, Los Angeles ranks just 72nd in the TPL rankings, with a disapointingly low amount of dog parks and playgrounds per capita.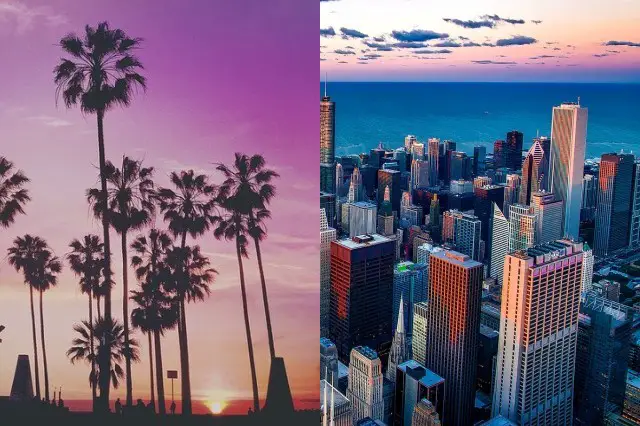 4. Cost of Living
Both Los Angeles and Chicago have high cost of living. Los Angeles is the 16th most expensive city in the Americas, while Chicago is 23rd most expensive.
LA and Chicago are both major cosmopolitan cities with high urban density. This puts upward pressure on the cost of housing in particular (which may be why both cities face homelessness issues).
Another contributing factor to high cost of living in both LA and Chicago is the high tax burdens in California and Illinois. In fact, the states sit alongside each other with the 9th and 10th highest tax burdens in the nation.
5. Climate and Weather
Los Angeles has comfortable weather year-round, while Chicago has long, freezing winters and an average of 36 inches of snowfall per year.
The climate is the most obvious difference between these two great cities.
Chicagoans are hardened by a freezing winter, with snow on the ground between November and April each year. Expect average highs to be below freezing point in the depths of winter.
Angelinos, on the other hand, get to enjoy a temperate climate year-round. While Chicagoans are enuring 31°F highs in January, Angelinos are still out and about (perhaps in a hoodie!) with 68°F January days.
It's also notable that Los Angeles has more than 60 more cloudless sunny days than Chicago, and of course 0 snowy days.
However, some midwesterners may be unenthused by the fact you don't get seasons in quite the same way in California. Crisp Fall days and a pumpkin spiced latte can be quite enjoyable and something to look forward to!
| | Los Angeles | Chicago |
| --- | --- | --- |
| Cloudless Sunny Days per Year | 146 | 84 |
| Avg. Annual Snowfall | 0 Inches | 36 Inches |
| Avg. January High (Winter) | 68°F | 31°F |
| Avg. July High (Summer) | 83°F | 85°F |
6. Traffic and Transit
Los Angeles is known as the city with the worst traffic in all of the USA. So, Chicago wins this contest by default! Chicago also has a better public transport network.
According to Tom Tom's data, Los Angeles rates as the highest congestion city, while Chicago ranks 20th.
If you move to Los Angeles, be aware that it's a car-dominant city, and traffic jams are very common. Public transit is available but underutilized and not particularly liked by many Angelinos.
Chicago, on the other hand, has the very popular light rail (The 'Chicago L') as well as a well-frequented bus network that shuttle 1.6 million people per day. The Chicago Transit Authority is the 2nd largest in the nation, beaten only by New York.
It's quite possible to live in some of the inner neighborhoods in Chicago and never even own a car. But if you do, beware the dibs system!
This quaint Chicago tradition involves digging out your parking spot after the first snowfall, and leaving a marker (such as a lawn chair) in that spot all winter. That way, you always have a spot that you shovel and keep clear, and no one ever benefits from your hard work shoveling snow.
But if you don't claim a spot quickly, you'll spend all winter walking a few blocks to your car!
It's a fun system, and you can learn more about it here:
7. Job Prospects
Chicago and Los Angeles are major cities with similar economies. Both have strong financial, healthcare, and higher education systems.
Therefore, I would have to give the cities a tie on the 'job prospects' category.
Los Angeles has 23 fortune 500 companies headquartered there, while Chicago is home to 10 fortune 500 HQs.
One thing that's notable is that there still is a sizable film, television, and media industry in Hollywood. People working in film production may find it easier to find work in LA. Similarly, Chicago is home to a substantial financial industry.
This doesn't mean it's going to be easy to walk into a job. I like the Chicago Tribune's quote on this topic: there is "lots of hiring" in Chicago but also "plenty of competition".
8. Crime
Both Chicago and LA perform poorly on crime metrics. However, Chicago performs substantially worse.
According to the Area Vibes data, LA's crime rate is 25% above the national average. This may seem bad until you see Chicago's rating. Chicago is a dangerous city with a crime rate is 58% above the national average!
Both cities face problems all the way from petty crime from the homeless all the way up to serious gang-related problems.
Interestingly the crime rates in both cities are exacerbated by specifically violent crime. In LA, violent crime is 93% above the national average, while in Chicago, violent crime is 149% above the national average.
Nevertheless, there are of course low-crime suburbs in both cities. These suburbs are usually more expensive, but look toward places like Westwood in LA and Jen Tilly Terrace or Peterson Park in Chicago.
9. Schools Education
Los Angeles and Chicago both have poor education outcomes. Chicago's test scores are 52% below average while Los Angeles's test scores are 37% below average.
One possible explanation for these lower test scores is the high student to teacher ratios in both cities. The national average is 16:1, while LA has a ratio of 20:1 and Chicago has a ratio of 21:1.
Both cities do have higher than average residents with university degrees, although this may be due to the fact that both LA and Chicago attract college students to the city to attend their excellent world-class universities.
| | Los Angeles | Chicago |
| --- | --- | --- |
| Standardized Test Scores | 37% below average | 52% below average |
| Student to Teacher Ratio | 20:1 | 21:1 |
| High School Completion | 10% below average | 3% below average |
| University Completion | 7% above average | 21% above average |
Source: Area Vibes
10. Sports
Los Angeles and Chicago both have deep sporting histories. There are multiple major league teams in each city.
Los Angeles has a major league team in every sport. This includes the Clippers (Basketball), Dodgers (Baseball), Chargers and Rams (Football), LA Galaxy (Soccer), LA Kings (Ice Hockey).
Chicago has the Bears (Football), White Sox and Cubs (Baseball), Blackhawks (Ice Hockey), and Bulls (Basketball).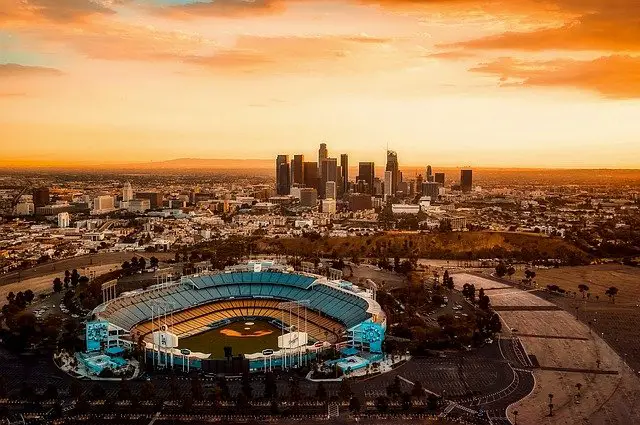 A Stadium in Los Angeles
11. Politics
Both Los Angeles and Chicago are politically liberal. They're also based in liberal states.
Los Angeles ranks as the 18th most liberal city in the US, while Chicago ranks 11th. They're both Democratic strongholds. LA is also a city that is very welcoming of LGBT people.
One thing worth noting, however, is that Chicago also suffers from ongoing political corruption, that frustrates many locals. 
Visiting Chicago vs Los Angeles
Again the cities tie on this matter. They're both cosmopolitan world cities that get over 50 million visitors per year.
Los Angeles has Hollywood, which is a popular place to visit for international tourists. You can see the Hollywood stars in the pavement, take a bus tour to see the celebrity houses, and of course take a tour of all the major Hollywood studios. It's also worthwhile visiting Santa Monica Pier to soak up the amazing atmosphere.
Chicago is best to visit during festive times, like the romantic and snowy Christkindlmarket just before Christmas time, the greening of the river on St Patrick's day, or (for the music fans) the Lolapalooza festival. When in Chicago, don't forget to try an original deep pan pizza and check out some Chicago jazz.
And don't forget to take a look at the Chicago Bean:
Related City Comparisons
Conclusion
Chicago and Los Angeles are two of the biggest and most vibrant cities in all of the United States. They're cities built on rich immigrant history and have a lot to offer to anyone living there.
The main things to keep in mind are the weather, transit, and culture. Chicago has cold winters and distinct seasons while Los Angeles has very mild winters. Chicago's transit systems (both for cars and public transport) are better. Culturally, LA is more about glamor while Chicago has midwestern charm and the big city bustle.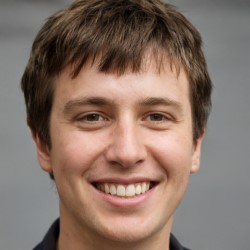 Jason Dempsey is the CEO and Co-Founder of Home City Living. After abandoning the corporate world in order to indulge his wanderlust, Jason founded Home City Living with his partner Rose to create the premier source of travel information and inside local knowledge on the web to help other would-be global explorers and seekers learn to spread their wings and fly.