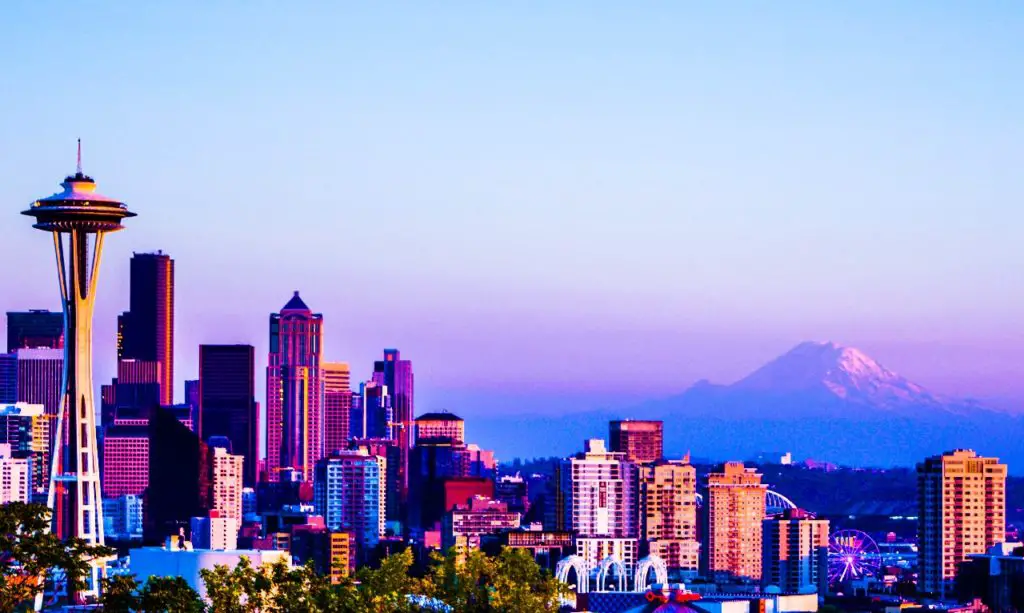 The main difference between Seattle and Los Angeles is that LA is a much larger city and is far enough south of Seattle that it enjoys a much warmer, dryer climate.
Both cities prioritize music and art, but Los Angeles has a greater film and television influence. Los Angeles is about glamor while people from Seattle pride themselves in their embrace of nature more.
Who Would Like Living in Seattle?
Coffee Loving Carly
Seattle is the coffee capital of the USA. Head there if you love to go out with friends for a coffee of a Saturday morning.
Outdoorsy Olivia
Seattle is known for its outdoorsy culture. Nearby mountains like Mount Rainier offer great hiking trails.
Who Would Like Living in Los Angeles?
Summer Sally
The year-round lovely weather in Los Angeles is great for people who can't stand the cold.
Hollywood Hannah
Los Angeles is a glamorous city. People flock to LA to enjoy the proximity to the rich and famous.
See Also: 25 Pros and Cons of Living in Los Angeles
Living In Seattle Vs Los Angeles
1. Size Comparison
Those that love a crowd will feel right at home in Los Angeles, but if you prefer a calmer town environment, you'll find it much easier to unwind in Seattle. Thanks to its impressive mountains and green areas, Seattle has a lot of natural beauty that adds to its charm. 
Seattle has a population of 737,015, making it the largest city within the state of Washington. Seattle's population is still growing, but these population numbers pale in comparison to the city of Los Angeles. 
With an enormous population of 3,898,747, Los Angeles is the largest city in California, and the second-biggest city in the United States, just after New York City. It's renowned for its attractions and famous neighborhoods.
2. Weather
Los Angeles has an excellent climate year-round. Being coastal, it doesn't get the extreme heat of inland cities, but still enjoys year-round comfortable weather. Seattle, by contrast, is the rainiest city in the USA.
In January, Los Angeles usually reaches a temperature of 57.1°F, while Seattle is 17 degrees lower at 40.9°F. Los Angeles is a great place to keep warmer in the winter.
Those that hate the rain may also want to avoid Seattle during winter. As a Seattle local, I can tell you, it rains a lot. It's that sort of drizzly rain that constantly falls like a thick fog. 
The temperature difference between the two cities lowers during the summer months. In July, L. A reaches 69.3°F while Seattle is 4 degrees lower at 65.3°F. Seattle is warm during summer, but Los Angeles will keep sun lovers happy until fall arrives. 
People love Los Angeles beaches and palm trees in warm weather, but make no mistake, Seattle's natural landscapes are just as stunning when the sun comes out. 
However, as Seattle becomes much colder and rainier when fall ends, the city is better for those that prefer a cooler climate overall. 
3. Cost Of Living in Seattle vs Los Angeles
Seattle has the 10th cost of living in the United States ranking at 89.33 on the cost of living index. This is higher than Los Angeles which has the 18th highest cost of living in the United States, coming in at 78.91 on the index. 
Los Angeles lies within the state of California, which has the 10th highest tax burden in the United States. Seattle resides within the state of Washington, which ranks at 24 on the tax burden list, much lower than California. 
The cost of living is lower in Los Angeles, but residents will have to pay more towards local and state taxes. However, those that are concerned with their budget may want to avoid Seattle. Compared to L.A., lifestyle elements like groceries, rent, and eating out cost more overall.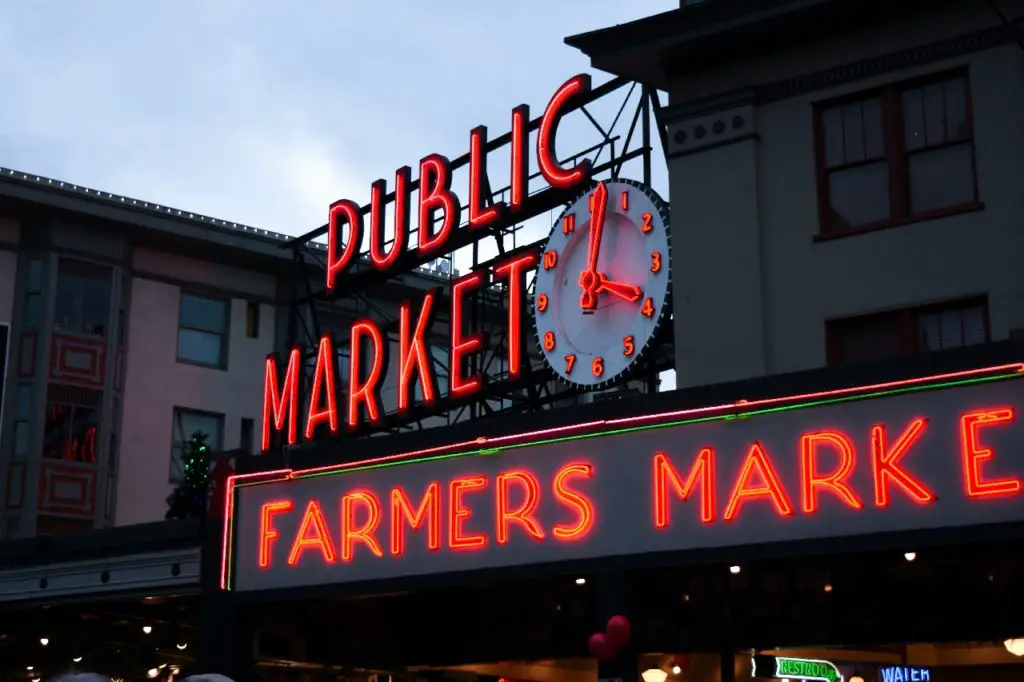 4. Culture
Known as the capital of the entertainment industry, many dreamers and hopefuls flock to Los Angeles to try and make it big. To this day, Los Angeles is affected by the Hollywood film industry's arrival during the 20th century. 
Other than film, L. A is well known for its creative industries like media, music, and design. The city houses well-known art collections and sports arenas. It has more theaters and museums than any other city in the United States. It's also a very diverse city, with most of its population identifying as Hispanic or Latino.
Seattle is also known for its art, being the home of notable musicians and bands. Many museums are focusing on art and history, along with several public art displays within the city streets. The city is known for its love of coffee, as it has the highest coffee consumption rate in the United States. Seattle isn't as diverse as Los Angeles, but it is still viewed as a relatively diverse city. 
5. Traffic & Transit
Neither Seattle nor Los Angeles rate well for traffic. You'll be stuck in traffic jams in either city. But LA still loses with the worst traffic of the two.
According to Tom Tom's data, LA has the second-worst traffic in the nation (New York wins the top spot for most traffic jams). Seattle comes in eigth.
On average, Los Angeles loses 75 hours to traffic every year, while Seattle loses 52 hours every year. At 33%, Los Angeles has a higher congestion level than Seattle, which comes in at 23%. 
On average, a 30-minute journey without any interruptions will take 10 minutes longer in Los Angeles, compared to 7 minutes in Seattle. This makes it easier to drive in Seattle as you're likely to encounter more traffic jams in Los Angeles.
6. Economy And Job Opportunities
Los Angeles' main industries are entertainment, technology, and tourism. Paramount Pictures, one of the five main film studios, is located in the city. Finance is also a huge industry as LA was ranked the sixth most competitive city in the US.
L.A is the biggest manufacturing hub in the US. Its ports are some of the busiest in the world and are necessary to trade inside the Pacific. 
Seattle also has an important port, known as the Port of Seattle. This is the 8th biggest port in the US, which is vital to trade with Asia. Seattle is known for its start-up companies, particularly those that focus on clean, green technology. 
Despite this, Seattle remains home to successful businesses.
Five Fortune 500 companies live within Seattle, including Amazon and Starbucks.
As Seattle is well known for its coffee consumption, many coffee companies and independent cafes are based in Seattle. The city is also a center of global health with several research hubs and health organizations located inside the city. 
Seattle is a city with great employment prospects in technology companies, maritime, and health care. These tend to pay well, but Los Angeles differs. It isn't hard to find a job in Los Angeles, but it can be difficult to find one that pays well. 
7. Sports Franchises
Both Los Angeles and Seattle are known for their sports teams, but Los Angeles has comparatively more. In major league baseball, Los Angeles is home to the Dodgers and the Angels. Seattle's single notable baseball team is the Mariners. L.A's NFL teams include the Rams and the Chargers, while Seattle's has the Seahawks. 
Los Angeles is known for its basketball teams, with the Lakers and the Clippers being household names. However, Seattle has a significant women's basketball team called the Seattle Storm, winning the WNBA championship four times in the past two decades. 
Los Angeles is well known for its stadiums, including the world-famous Dodger Stadium for baseball, and the former Staples Center, now known as Crypto.com Arena, home to the Lakers and the Clippers. The Memorial Coliseum hosts many sporting events and will host three Olympic games in 2028. 
Seattle also has sporting stadiums, including Lumen Field, home to the Seahawks, and T-Mobile Park, home of the Mariners. Seattle's ice hockey team, the Kraken, is also based at Climate Pledge Arena. 
8. Crime Rates
Both cities have worrying crime statistics, but Los Angeles may be slightly safer than Seattle. The chance of you becoming a victim of crime is 1 in 35 in Los Angeles, compared to 1 in 19 in Seattle. 
In 2020, Seattle had 42,425 reported crime incidents, while Los Angeles had much more, at 114,814. Seattle may have fewer reported incidents compared to Los Angeles, but the amount of total crime is 134% higher than the national average.
Crime has risen in both cities, with violent crime in Los Angeles 82% over the national average. This is a large percentage, but violent crime is still 62% higher in Seattle. 
Crime has also decreased by 8% in Los Angeles but has risen by 8% in Seattle. In this case, Los Angeles may be the safer city, but keep in mind that the chances of becoming a victim of violent crime are higher in Los Angeles compared to Seattle.  
9. Education Systems
In terms of education, Seattle is the better city. Average test scores were 25% higher than the national average. The amount of people with a high school diploma is also 11% over the national average. 
There isn't information regarding average test scores in L.A, but the amount with a high school diploma is 10% under the national average. 60.4% of citizens in Seattle have a bachelor's degree, compared to just 32.5% in Los Angeles. 
As Seattle has a superior education system, it looks like a better city to raise a family in. Children may have better prospects during high school and college.  
Other City Comparisons
Conclusion
Couples thinking about starting a family should consider doing so in Seattle. This city has a stellar education system and much better job prospects. However, Seattle's crime rate is much higher than the national average and does have a higher cost of living, so single professionals may want to look elsewhere. 
Los Angeles is warm, vibrant, and diverse. There are lots of attractions to see and it's easy to get around via the subway. This makes Los Angeles ideal for young single adults, but keep in mind that it can be hard to find a well-paying job in the city.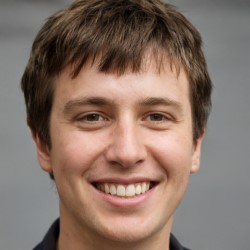 Jason Dempsey is the CEO and Co-Founder of Home City Living. After abandoning the corporate world in order to indulge his wanderlust, Jason founded Home City Living with his partner Rose to create the premier source of travel information and inside local knowledge on the web to help other would-be global explorers and seekers learn to spread their wings and fly.